Often we have seen that it's the bride and bridesmaids who savor all the fun of Mehndi ceremony while the groom usually stays fine with whatever design a Mehndi designer put on their hand. Applying Mehndi is equally essential for the groom as it's for the bride because Mehndi ritual is considered a good omen in the Indian tradition.
It's high time to reiterate the sentence 'why should girls have all the fun in Mehndi ceremony'. Grooms also can flaunt their Mehndi like brides by inducing some simple but attention-grabbing Mehndi designs images. For the grooms-to-be, we have collected some simple Mehndi designs which they can use to surprise their stunning brides. Let's get started. 
1. Caricature of Bride
What an ingenious way to surprise your bride-to-be. You can ask your Mehndi designer to make a beautiful caricature of the bride on your hand. Not only it will look adorable but also show how much you love her.
2. Heart & Flower
Heart & flower Mehndi designs are quite clichés but it never goes out of fashion. You can write some message or the name of your beloved in between the heart Mehndi design. Initials of you and her name will also look quite adorable.
3. Classical Designs
If you are not much into floral designs or caricatures then you can go with classical designs like rounded patterns. Also, go through different shapes and design maybe you spot something drool-worthy.
4. Full Hand Design
Full hand Mehndi design is preferred a lot by brides. Usually, you will find their full hand designs quite intricate. You can also try full hand Mehndi but with simple designs. The key idea here is to make your Mehndi design look garish. 
5. Hashtag Design
The term Hashtag is massively popular among the millennials. Marriage Hashtag or wedding Hashtag Mehndi designs surely make you look quirky and cool groom.
6. Ganpati Mehndi Design
Lord Ganpati brings prosperity, opulence, and good luck in life. You can ask Mehndi designer to showcase the myriad of Ganpati Mehndi designs and pick your favorite one to draw on hands.  
7. Half & Half Mehndi Design
These Mehndi designs look out of the box and such designs grab the eyeballs of everyone. You can also convey a lovely message to bride through this design because when you join the hands then only the message will be revealed. 
8. Wrist Mehndi Designs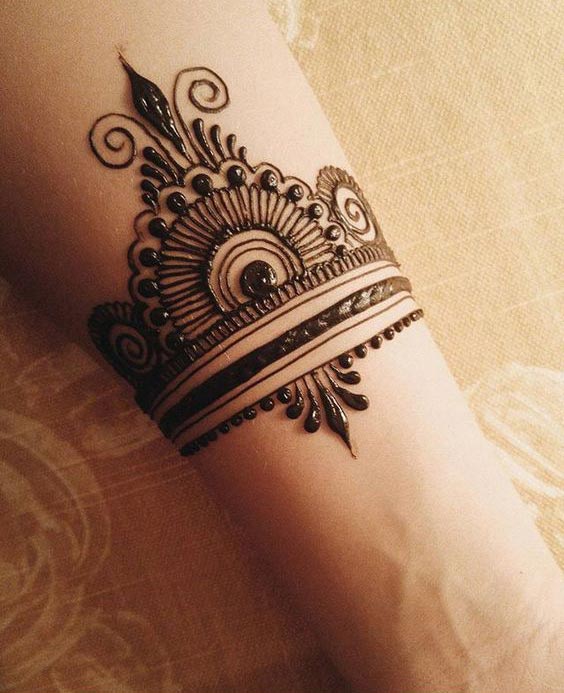 Wrist Mehndi design is high in trend among the grooms these days. This type of Mehndi designs look off-beat and also give the impression of adornments. Give it a shot!
9. Fingertips Mehndi Design
One fine example of minimalistic Mehndi design is fingertips Mehndi design. Mehndi designer applies Mehndi on fingertips only. Because of minimalistic appearance, fingertips Mehndi designs look quite elegant. 
10. Cartoon Mehndi Design
This Mehndi design is popular among kids. Cartoon Mehndi designs are light and funny. You can ask Mehndi designer to draw your favorite cartoon character or even figures like stars, tree, butterfly etc. Besides all that, hire a mehndi artist in Jaipur for your wedding if your destination wedding is in the city.