Garages are often stuffed with various tools and gadgets apart from your expensive vehicle, simply because it is easy to throw things into it, close the door and forget about it. But when your car needs a homely service and you start searching for your tools, then you realise how important it is to get things arranged in your garage too. Depending on the stuff you need to store in it, the space available, and the accessibility desired, you can choose from a wide variety of garage cabinets to keep things organized down there too.
Let's have a look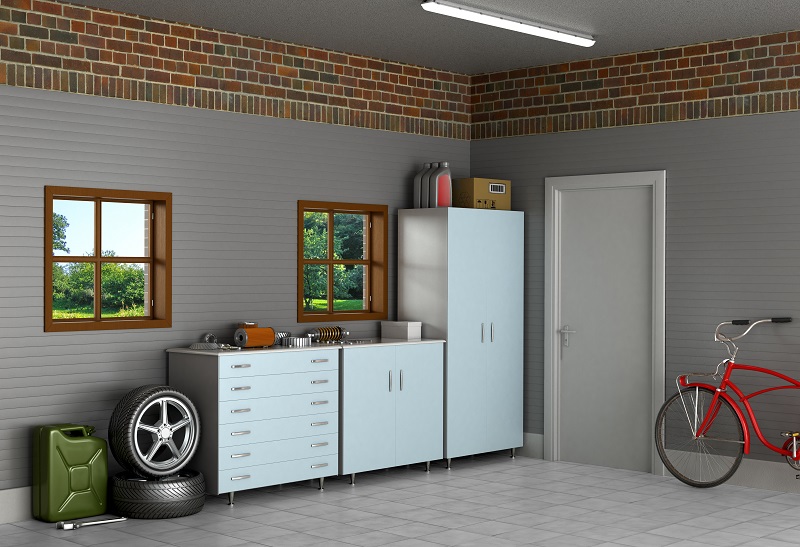 Storage cabinets: These garage cabinets can be freestanding on floor or mounted on a wall. They are available in a variety of sizes, colours, materials and assembly requirements. The one that you choose depends on the type of items you would be stored in them. If your garage does not have any moisture or temperature control system, then the best storage cabinet for you would be a metal cabinet, otherwise, you can also go for wood, PVC or glass one too. Whether you choose a freestanding one or a wall-mounted one depends on the size and space available in your garage.
Safety cabinets: Safety cabinets are specifically designed for storing hazardous materials in them, such as pesticides, corrosives, firearms and flammables. This kind of cabinet is extremely necessary if you have children or pets running around your garage. Tampering with such materials can be disastrous for your life and property. These garage cabinets can come with manual, sliding or self-close doors that self-latch when closed and do not open easily by children. They also come with locking handles or self-latching handles that do not open by children. Check if the state, local or federal laws require you to have particular handles or doors on your safety cabinets.
Complete storage systems: These cabinets are made with a combination of different garage cabinets, containing 3 to 12 cabinets in one unit. They can also be wall-mounted or freestanding, or a combination of both. Some of them also have a pegboard or workbench. The bigger the storage system you buy, the more you will have to pay. So, know what you need to store in them and then make your choice.
Shelves: Like other cabinet systems, shelves can also be wall-mounted or freestanding. They can be made up of a variety of materials and can be composed of 2 to 10 shelves. Some shelves are fixed, while others may be adjustable as per your current requirements. Some have bins to store things, while others have caster wheels to facilitate moving. Freestanding add-on shelves have two legs only and have one side open so that they can attach to other shelves. Wall-mounted shelves are ideal for small-size garages because they do not consume any space on your garage floor and can easily accommodate freestanding shelves or garage cabinets. These shelves make the best use of your wall space and keep your things away from the floor. This not only increases the overall storage capacity of your garage but also gives a safe working environment inside. You may also go for ceiling shelves that use the space above your garage door. However, store items that you rarely use in your garage, as you would also need a step ladder to access this shelf.
Racks: A lot of clutter in our garage comes from sports equipment and bikes that we cannot store anywhere else. So, you can use racks to keep them organised and easily accessible. There are different types of racks you can consider buying, including bike racks, ski racks, snowboard racks, sports racks, kayak racks, surfboard racks, SUP racks, fishing racks, etc.
So now that you know the different types of garage cabinets, the one that you choose depends on the space available in your garage and the type of items you want to store in them.