With the majestic forts, splendid palaces, colorful bazaars, Rajasthan is a perfect place to experience royal and rural together. The bustling cities, scrumptious food, art, tales of chivalry has made this royal state a popular destination of India to be visited once in a lifetime. To get the most out of your 10 days Rajasthan Tour, check out the following magical experiences:
Explore the spectacular forts
Rajasthan is dotted with plenty of forts which stand with the pride of Rajasthan. The Mehrangarh Fort of Rajasthan, Amber Fort of Jaipur and Chittorgarh Fort are those iconic attractions which are explored by every tourist. The sunset from the Jaisalmer Fort, one of the live forts of the world is just splendid. The Kumbhalgarh fort has the second largest wall after the Great Wall of China in the world. Do you want to stay in the fort of Rajasthan then Ahhichatragarh Fort in Nagaur offer  this opportunity to the tourists to experience the stay in its fort which has been now converted into the boutique hotel with luxurious amenities.
A day with Elephants at Elefantastic Farm
If you love elephants and want to spend some time with them then you must definitely visit the Elefantastic Farm in Jaipur where you can enjoy various activities with elephants such as, bathing and feeding them. Decorate their trunk with natural colors and have a walk with them in the farm. You would be assisted by the knowledgeable staff who would answer your all questions. It is a pleasant experience to see how these elephants are taken care off. You can also enjoy the Rajasthani style dinner at the farm.  Mostly people visit this farm during their golden triangle tour packages. This is the most traversed circuit in India especially for first timers who can visit the three exotic destinations of India in single tour to experience the rich heritage and culture. The three cities are- Delhi, Agra and Jaipur.
Cooking Experience
Do you love cooking and want to learn how Indian food is cooked then this cooking class would be an added flavor to your Rajasthan Tour. You can join a 2-hour class in Jaipur where they will share their secret recipes with you. Be it an authentic Rajasthani food, dal-bati-churma or non-veg specialty laal mass, you can see how they cook followed by having a dinner with their family. The more you interact with the locals, the more you will get a deep insight of the culture of Rajasthan.
Celebrate fairs and festivals in Rajasthan
The best time to visit Rajasthan is during festivals such as Diwali, Kite festival, Holi, Gangaur, Teej festival, Pushkar fair, Desert festival and so on. You will be delighted to see that each festival is celebrated in Rajasthan with so much of fun and enthusiasm. Though, these festivals are enjoyed whole year so the best time to visit Rajsthan would be from the month of October to March when there is a pleasant climate.
Camel Safari in Rajasthan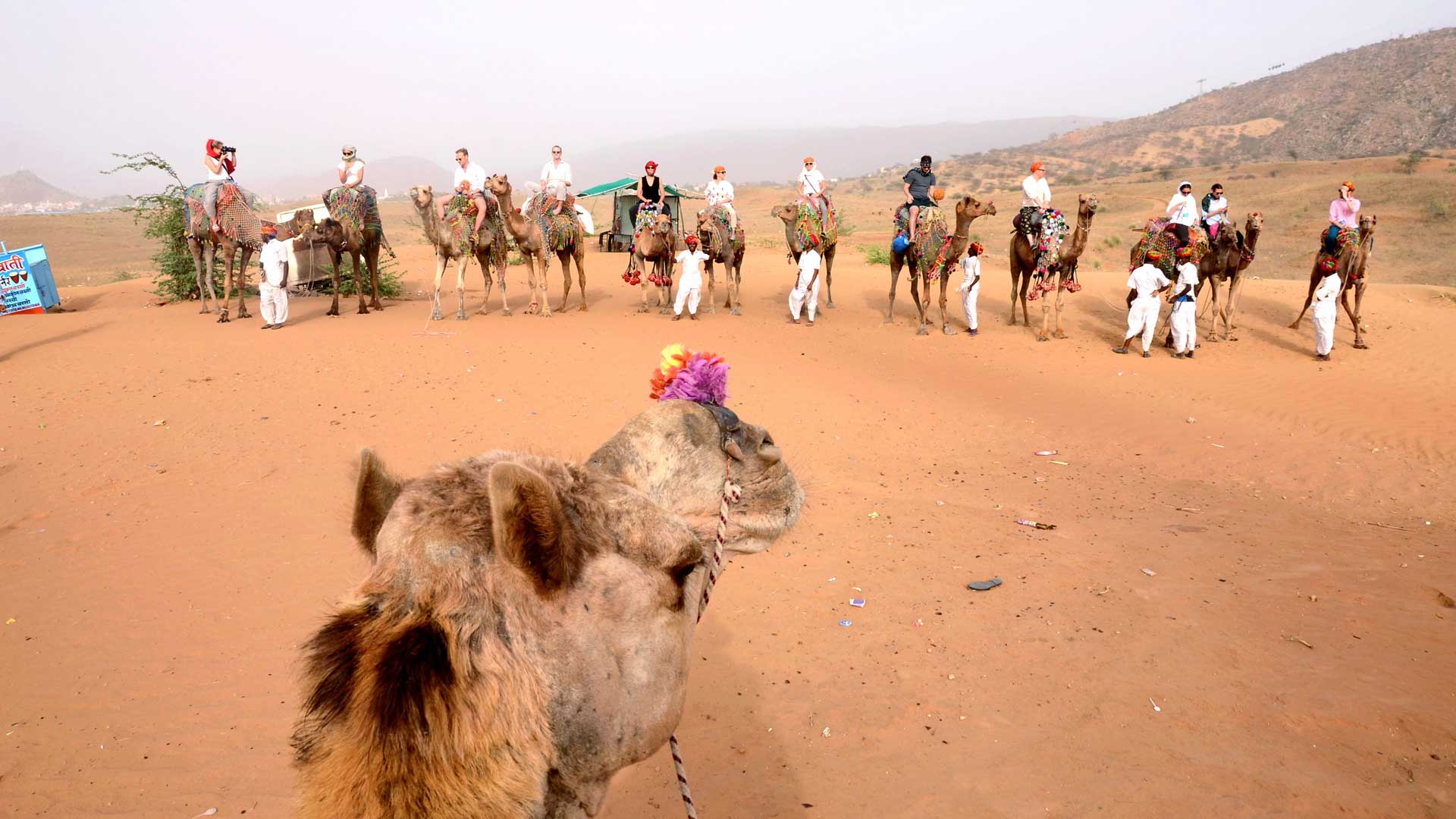 This is the most popular experience of Rajasthan which should not be missed. The places like Jaisalmer and Pushkar are well-known for enjoying the safari on the land of Rajasthan. During the golden triangle tour with Pushkar, you can enjoy exploring Delhi, Agra, Jaipur and Pushkar along with experiencing camel ride. Away from the hustle-bustle of the city life, Pushkar is a spiritual place where you can feel eh peace around and calm down your soul.
So, plan your trip to Rajasthan and do not forget to have the above magical experiences. You can also book golden triangle with Rajasthan which is a complete package of exploration of awe-inspiring architectures and magical experiences.