Having healthy, thick and luscious locks is everybody's desire. And for women, hair is seen as an add-on to her appearance. So, who doesn't yearn for voluminous hair?
But, in today's hectic life with stress all over, increased pollution, decreased quality in the food, and poor hair care, having gorgeous hair is pretty difficult. But all these issues can be confronted and the hair growth can be enhanced with the ingredients right from your kitchen. Surprising, isn't it?
Here's presenting to you 5 proven and affordable home remedies to boost your hair growth.
Onion juice:
Since time immemorial, using the onion juice for boosting hair growth has been in practice. Onion does wonders to your hair.  It has antibacterial properties which help in fighting the infections on your scalp. Infections in the hair are one of the major reasons for hair loss and they hinder the growth of the healthy hair. All these infections can be kept at bay by applying onion juice.
Also, the sulphur present in onion promotes collagen production. Collagen is a natural antioxidant that regenerates the hair. So, the onion juice when applied to the hair, revitalizes the cuticles and stimulate hair growth.
Benefits from Banana:
Banana is one of those fruits which is readily available throughout the year, irrespective of the season. Banana is a power pack fruit which is rich in vitamins, magnesium, carbohydrates, calcium and natural oils. All these nutrients nourish the hair, condition it well and rejuvenate your hair.
You can simply mash a banana and apply it to your hair or you can combine it with other ingredients like honey or yoghurt. You will see instant results like soft, silky, and shiny hair after applying banana.
Curd and Fenugreek mask:
Dandruff is one of the primary factors which contribute to the hair loss. Curd acts as a natural exfoliating agent and removes dandruff from the hair. It also conditions and moisturizes the hair. And curd has oodles of protein and when coupled with fenugreek powder has immense benefits such as strengthening the hair strands, slowing the premature greying of hair, increasing the blood circulation in the head, and energizing the hair follicles.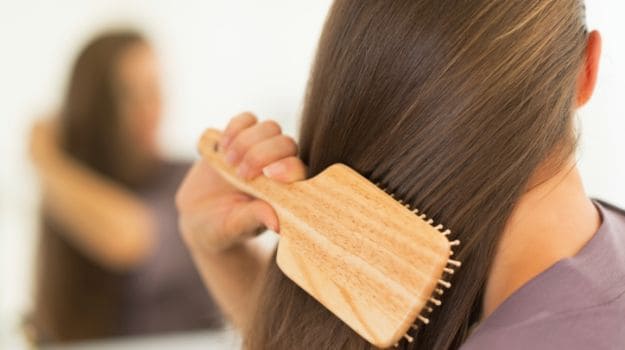 Eggs:
While masking your hair with egg may sound unpleasant, the benefits that an egg offers to your hair compel you to apply it right away. Egg serve as superfood for your hair. It is rich in protein, vitamin A and E, folate, and biotin. All these nutrients are essential for stimulating the hair growth. Frequent application of eggs on hair can give numerous benefits such as
Strengthens the hair shafts
Prevents hair loss
Hydrates the hair
Improves the elasticity
Adds volume to your hair
Indian gooseberry (Amla):
Amla is one of the age-old remedies for promoting hair growth. Amla is full in vitamin C and is known for its zillion nutrients, amino acids and antioxidants. When it is frequently consumed or applied directly to the hair, can provide great benefits such as
Promoting hair growth
Strengthening the strands
Enhancing the hair colour
Giving lustre to hair
Preventing the premature greying of hair
Removing dandruff from the scalp
You can either follow all these remedies by shuffling them alternately for better results or you can follow one remedy religiously which suits you the best.
Hair grows well and healthy when it is treated inside out. So, eating a well-balanced nutritious diet and following the above remedies can help your hair grow rapidly. Even after all these attempts, if the hair doesn't grow well, it is either because of the genetic issues, hormonal imbalance, or other health issues. In such cases, you should talk to a trichologist and get the appropriate treatment. You can easily buy prescription medicines online and continue your treatment comfortably. There are a number of trusted online drugstores which can offer you medicine home delivery.