Party sarees are perfect to flaunt on any occasion like sangeet, wedding receptions and a friend's cocktail party. Choosing the right saree is a daunting task for us women with so many varieties, designs and stylish options available. If you need to stand out at a party, it's important to choose the right saree to suit the occasion and up your fashion game by a few notches. Here are some wonderful party wear sarees – blouse combo ideas to look your best for upcoming parties.
Georgettes with Cape Blouse
Georgette sarees are a must for any party and it's been there for some time now. But the blouses are getting more innovative and fancier than ever. When you beautify your georgette saree with these attractive cape blouses, it looks absolutely stunning. Cape blouses give scope for bordering with embroidery, lace and stone embellishments leaving you with rich choices to play up on your blouse. It is all you need to look sophisticated and you can go easy on those accessories. Get these party wear sarees online at best prices.
 Peach Georgette Saree with a Multi Work Blouse
Why we chose the color peach is because it is elegant, suits all skin tones and has a regal look. Wear a peachy party saree and carry it off with something grandiose, like a multi work blouse. It could be a heavily embroidered blouse or a lacy halter neck. Be bold and wear your saree differently like Sonam Kapoor does each time. If you can pull it off, it will set you apart at all parties.                          
Off Whites Sarees          
Off-whites are the life of every party as they look sensuous and suit any occasion. Designers like Sabyasachi are all for this color and they can be tailor made to doll you up or dress you down. We love the above off-white saree with a tinge of deep embroidery. It is spruced up with the lovely designer blouse and danglers. Always stock your wardrobe with an off-white saree.                              
Black Chiffon Part wear with zebra blouse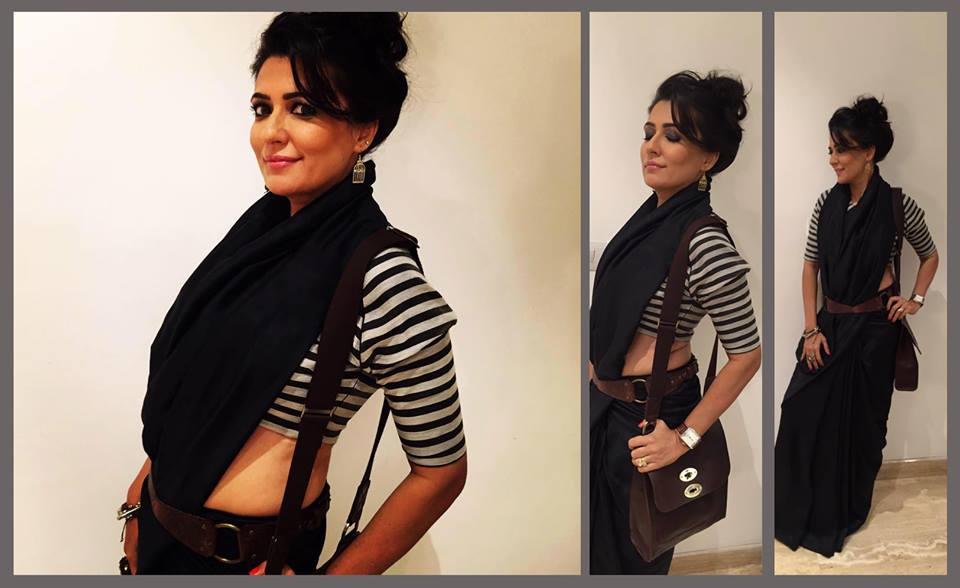 Who said the LBD (little black dress) is the only outfit to hide all your vows? The black saree is another outfit which saves you when you are in doubt. Almost every color goes with black and a plain black saree can even be paired with neon's and gold for an iridescent effect. We loved this zebra styled blouse which Mini Mathur paired with her plain black saree for a contemporary effect. These latest designer party wear sarees can be found right here on our site
Red Satin Saree with Blouse
Red is the life of any get-together! And designer party wear sarees in red satin are bold and beautiful.  An eclectic blend of a bold red satin saree with a sheer, velvet or gold blouse adds all the grace you need. You could opt for unconventional options like shirt blouses and retro sleeves to rock those hippie parties.