We're glad the summer is back for some reasons. This is the best time to gorge on ice-creams, plan our vacations and meet up with loved ones. And if there's a wedding in tow, nothing like it. While dressing up for wedding can be tedious during summers, it's fun if you can experiment with light weight and comfortable fabrics.
Here we bring you six gorgeous sarees to prep up your summer weddings.
Shimmer Georgettes
This light-weight shimmer georgette is the right choice for any wedding parties. It's regal, subtle gold and brings out your elegant side. A velvet/brocade blouse will work wonders to further enhance its aesthetic appeal. Check out these Shimmer Georgette Sarees online at our site for some latest collections.
Lacy Net Sarees
Net sarees are comfortable, figure flattery and look glamorous. There are a lot of lovely designs in different palettes out there. Like this lacy, net saree in pale pink which oozes feminine charm. A string of pearls is all you need to be party-ready.
Satin Crush Sarees
Satin Crush sarees are light-weight and are perfect choice for parties when you have to display your inner charm and rouse the inner fashionista in you. This persian green satin crush saree is the perfect color and fabric choice for those hot summers and evening parties. You can buy satin crush sarees online at our store.
Satin Chiffon Beauty
We fell in love with this satin-chiffon saree for the grace it exudes radiating an old world charm reminiscent of royalty of yore. Look like a queen at those wedding parties you attend radiating an aura of deep mystery and radiant beauty. The netted pallu is simply gorgeous and you will need no accessories with this.
Khadi Silks are Elegant
Opt for Khadi fabrics is the fad these days with many swearing by its eco-friendly nature and also soft feel as you feel light as a feather. We loved how traditional she looks yet commands the attention of everyone who looks at her. That's what Khadi does to you. It makes you look like a queen! A great choice for summer wedding parties.
Shiny Satin Grace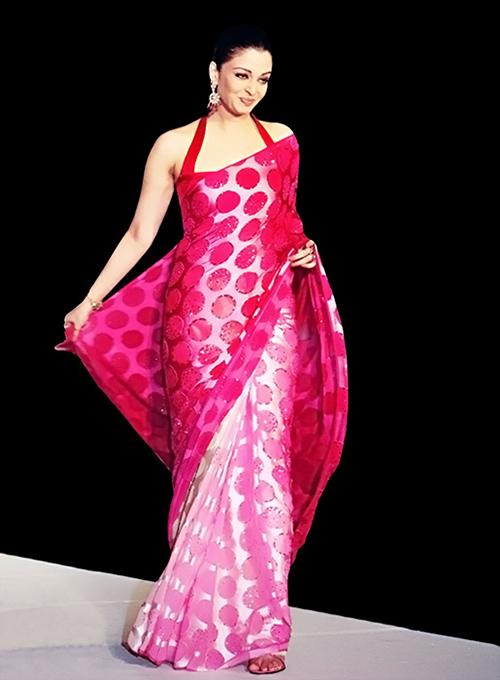 Last but not the least, we loved this saree worn by Aishwarya at an event. This would be an apt choice for those wedding parties which are fun, vibrant and modern. The halter neck blouse with the well draped saree will flatter your figure and you will look too trendy. Opt for these satin crush sarees online at any store.