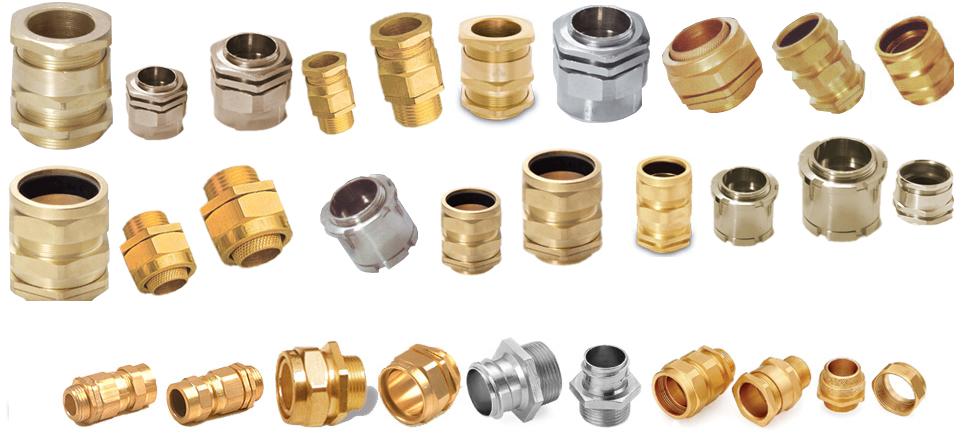 A cable gland is a device that attaches electrical cables to electrical appliances. Its function in this attachment is to provide earthing, sealing, bonding and strain relief. A gland is essential to ensure that the connection remains  stable and tamper-proof. It is responsible for the overall integrity of the connection.
Cable glands are of many types. In terms of material, brass cable glands are the most preferred. This is because of the many superior qualities of brass that make it the perfect conduit for electric cables. Let us look at some of the types of cable glands:
Brass indoor type gland:
Commonly found in home appliances, the indoor type glands are suitable for plastic, rubber-sheathed and single wire-armoured cables. In case of additional ingress protection, these are used with shroud.
Brass Outdoor Type Gland:
Although the name says 'outdoor', these cable glands can also be used indoors. Usually used with single wire- armoured cables, these are suitable for both sheathed and unsheathed cables. These work best with rubber cables. For additional protection, these are used with PVC shroud. Since these are used in outdoor equipment, these glands also contain earthing. There are outer seals that help in better grip, strength and sheathing.
Brass straitening unarmored cable gland:
Here we have pure brass glands or nickel-plated glands. These brass cable glands are used with rubber sheathed or  unarmored elastomeric and plastic insulated cables. Brass straitening unarmored cable glands are used both indoors and outdoors.
Brass weather proof gland:
Ideal for outdoor use, brass weather proof glands have high resistance to water and sunlight. Unlike other glands, these are exclusively used with single armoured SWA cables (both rubber sheathed and plastic).These are high performing glands that allow continuous flow. There is an outer sealing layer that provides both protection and strength to the connection.
PG threaded gland:
These nickel-plated glands can be completely customised according to requirement. These are threaded glands are designed for better grip and fit.
Industrial cable gland:
Usually used with wire braid armour cables, the industrial cable glands have high mechanical strength and efficiency.
Now that we know the most commonly found types of cable glands, how do we select one? Selection of the right gland is imperative to ensure a tight seal, continuous flow, better connectivity and productivity. To select the right gland, check the following:
— Check the cable that you are using: Different glands specialise in different types of cables. Some work better with unarmored cables, while some work better with armoured cables.
— Check the size, material and properties of the cable: Again, the connection with the gland will be severely impacted by the type of cable. Is it a rubber-sheathed cable or a steel wire armour cable? All these properties will determine the fit of the cable inside the gland. Similarly, check the diameter of the cable, since it will have obvious impact on its fitting.
Other factors to be considered when installing brass cable glands are:
— The location: Indoor and outdoor requirements may differ
— Environmental factors, such as exposure to corrosive factors like moisture.
— The thickness of the gland plate
— Any need for extra protective layer such as nickel plating.
— Whether you need fixing accessories like serrated washers or locknuts.
— Decide if you need an extra shroud.
— Whether you need a single seal or double seal cable gland.
— Whether you need earthing of the connection.
Why use brass as the material for cable glands?
There are many reasons for this. Brass is one of the most commonly used electrical component. Even though it costs more than plastic parts, brass will always be clearly favoured. This is because of the many unique quality of this allow. Some of these are:
Durability: Brass is an extremely durable material which has high resistance to corrosion. It is not easily affected by moisture or other corrosive material. Brass cable glands usually last a lifetime.
Aesthetics: With its dull gold gleam, brass is one of the most eye-pleasing raw materials in electrical components. It gives a polished and sophisticated finish to any equipment.
Economy: Brass can be recycled and has an impressively long life. This makes it a very economic material to work with.
There are many types of brass cable glands. These are selected according to the type of cable used and its properties.