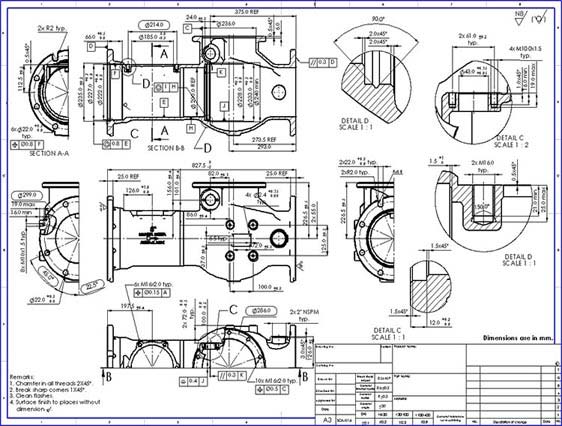 Mechanical CAD drawings & drafting are the backbone of any manufacturing industry. CAD drawings are typically a set of drawings which are usually produced by the manufacturers, contractors or engineers. In today's fast-paced world, manufacturers are finding themselves facing tighter schedules and longer material lead times.
Mechanical CAD drafting can be defined as a process in which the rough sketches are converted into detailed two dimensional and three-dimensional drawings. The drafting professionals develop the drawings in various types of formats such as IMG, JPEG, GIF, PDF and TIFF files etc., as per the specific requirements of the clients.
The mechanical drafting services provided by the professionals include:
Working layouts
Manufacturing drawings
Fabrication drawings
Assembly drawings
Isometric drawings
Installation drawings
Piping drawings
Instrumentation drawings
Equipment drawings
The mechanical drafting services are implemented in a wide range of industries such as the manufacturing, fabrication, furniture, design engineering, building products, auto-ancillary, mechanical Oil & Gas etc. The drafting services help in designing the mechanical assemblies, hydraulic systems, HVAC systems and the fire protection systems.
The professionals use the following effective software to provide the mechanical drafting services:
AutoCAD
Autodesk Inventor
SolidWorks
SolidEdge
The 3D mechanical designs are much faster than the traditional methods and it eventually helps in increasing the productivity. Secondly, with the help of the virtual mechanical prototypes as developed by the designers, it becomes easier to study the cross sectional views of the mechanical equipments and to analyze the working relationships between the various parts of the machines.
The three-dimensional mechanical drafting services exhibit a wide range of benefits for the engineering field. One of the most important advantages is the effective savings in time.
Hitech Engineering Services is well-known CAD drafting service provider company offering high-quality CAD drafting services like 2D/3D drafting, mechanical drafting, AutoCAD drafting services. Hitech has successfully completed multiple CAD Drafting projects for various clients in both the commercial and industrial sectors across North America, Canada, Australia, Europe and the Middle East.