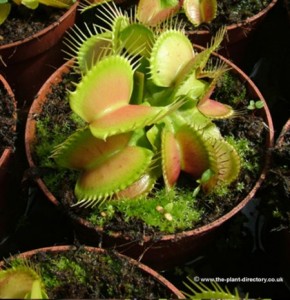 Dionaea muscipula is remarkable plant as it can feed on living insects as well as from peat moss. Dionaea muscipula should be kept in hot sunny position indoor or outdoor. Dionaea muscipula must be kept moist or wet at all times. In summer months the pot may be left sitting in water or on wet sponge. Place pot under a dripping tap for 2-3 hours every three moths. In winter Dionaea muscipula will lose most of his leaves but will regrow these in spring. Remove flower spikes as they start to grow and do not fertilize. Dionaea muscipula can only be fed living insects like small flies but does not need to have them to grow.
Can be grown indoors or outdoors in a sheltered positions receiving 50-80% shade or morning sun. Nepenthes ventricosa x truncata is frost tender.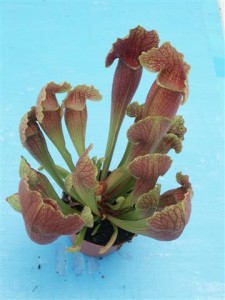 Sarracenia x mitchelliana, these amazing plant collect insects in their tall pitchers and slowly dissolve the nutrients over many months. Their favorite food is European wasps, often filling a pitcher in days. Sarracenia x mitchelliana do not need insects but due to the food served swamps they are used to their native American habitat they have learned to supplement their diet with highly nutritious bugs. Sarracenia x mitchelliana are from a cold climate similar to the southern parts of Australia and can tolerate severe frosts and short periods of snow. All growth is from spring to summer and in late autumn the plants go into dormancy; over the winter months the previous year's leaves will die  and should be removed by August to allow new growths to appear.
Do you love plants? if YES then yhis is one place to visit: PLANTS RESCUE.COM