The advantages of using CISS or continuous ink supply systems allows you to see the amount of ink in the external ink tanks, additionally it comes out cheaper than the conventional printing ways. Continuous ink supply systems, allows to use more ink for large printing operations, as compared to the ordinary cartridge.
The real printing cost, over a short period, shocks every new home printer users, who find that it covers even the initial cost of the printer. CISS frees you from depending on those expensive 'original manufacturer cartridges' thus help you save quite a bit of money. Nonetheless, CISS and certain types of ink may annul your printer's warranty.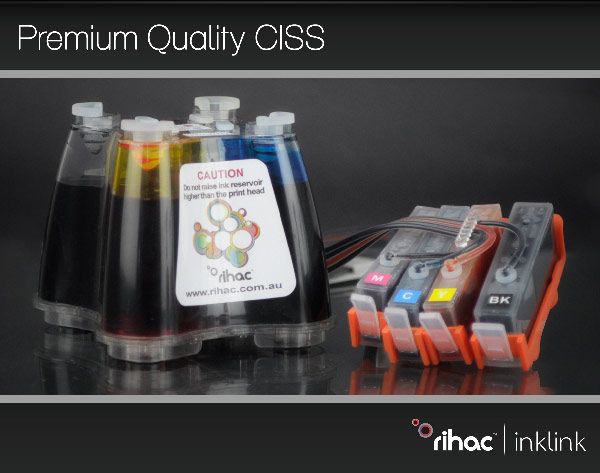 This article covers a few troubleshooting practices for some of the problems you may face. The advice is to follow carefully the instruction on the manual.
Problem:- Post installation of CISS, the printer prints blank pages.
Solution:
1) Ensure priming of your continuous ink systems to make certain that ink tank conveys ink to the printhead efficiently. Always read the manufacturers' instructions carefully.
2) In case, you have done the priming of the CISS system, check for clogged printhead.
3) Check if your purge tank tube disconnected.
Problem:-Your printer does not recognize the CISS Ink Cartridges.
1) Check if the cartridge lodged properly in its place.
2) Remember when placing the cartridge you should hear a clicking sound that denotes proper lodging of the cartridge.
3) The chipset on your cartridge need be very clean to be properly read, and therefore accepted.
4) Using a rubber to clean it is a very effective way to consequently, help in properly placing the cartridge firmly.
Problem:-Ink splashing and spraying inside your printer.
1) The scanner starts with a wild buzzing sound.
2) Printer says 'Fatal Error'
Solution – Clean the printer, yourself by reading the manual, furthermore you may take it to the service center.
Problem:– The carriage carrying the cartridge gets stuck on the left side of your printer.
Solution:- Remove the cartridge, clean it thoroughly with fresh paper towels, clean cloth, and a little water to remove the surface ink and winding up by cleaning with a rubber will definitely fix the problem
Typically, continuous ink supply system (CISS) costs nearly as much the printer, but cuts the cost of printing by almost eighty percent. Teaming the printer and the ink by manufacturer is the best way of getting the best out of them.
CISS is an exterior bulk ink system that supplies ink directly to your inkjet printer. CISS gives you a less messy and cheap printer ink.