A renowned name in India's best national parks for tiger sightseeing, Ranthambore National Park is situated in Sawai Madhopur district of Rajasthan in the surroundings of Aravali and Vindhya hills. Located 180 kilometers away from Rajasthan's capital "Jaipur- the Pink City", Ranthambore is mainly identified for its vast tiger population and tigers are the wild animal of the cat species.
The most interesting fact that will leave your awe-struck is that seven wonders of Cat species are found in Ranthambore National Park and tiger is one of them. Amazingly in spite of tigers, you can also spot six other cat species in Ranthambore reserve. To this regard, forest officials and wildlife experts have made an interesting disclosure to this. They said that Ranthambore is such an amazing wildlife reserve where seven types of cat species have been allocating. Let's have a look on these seven cat species –
Tiger: An enormous creature of cat species, tiger is the most favorite wild creature in the world. Tiger population in Ranthambore has reached to almost 77 including the little cubs. It is the most exotic creature on the earth that spreads wilderness in its residential area. Tiger cubs are born blind and only a few cubs survive for long. They love to swim and play in water thus there are higher chances to spot them in water reservoirs in Ranthambore National Park.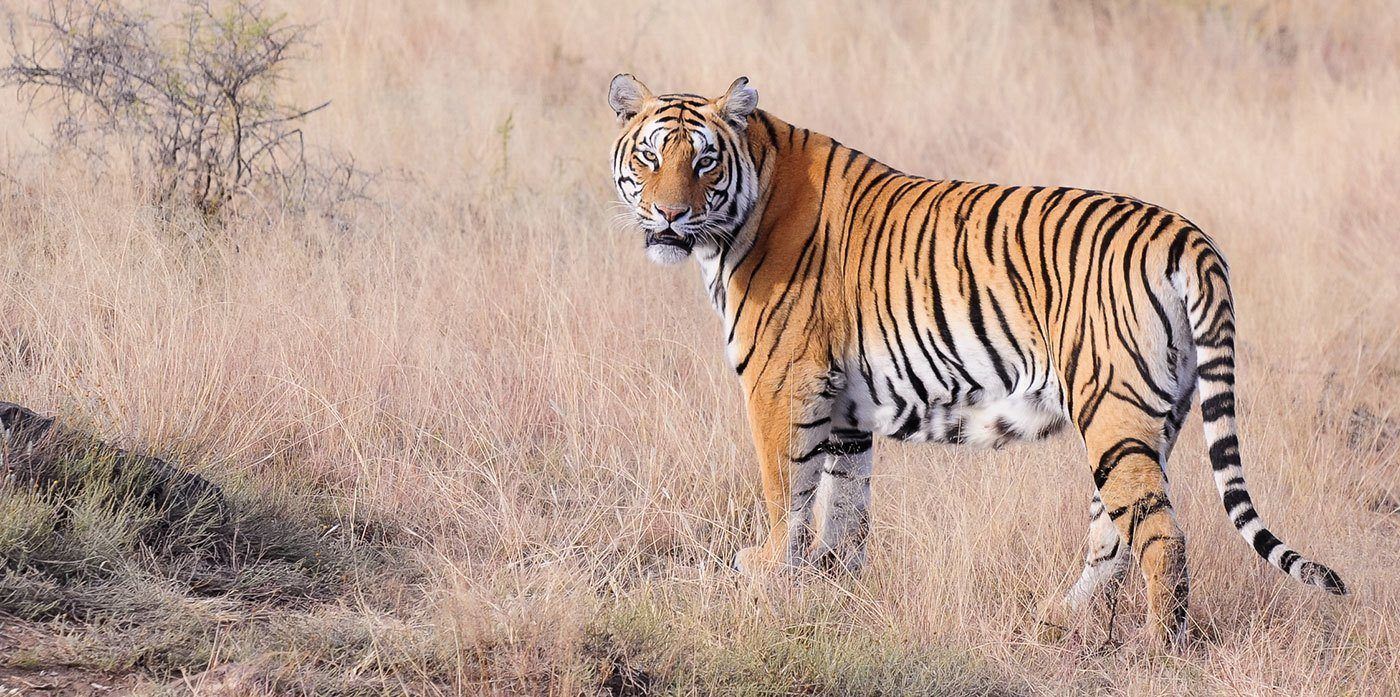 Fishing Cat: Also known as "Machlimaar Billi" in Hindi and is rarely found in Ranthambore. In 2016, a fishing cat was traced in the trap of the camera of the forest department in Berda forest of Ranthambore. The bulk of these cats diet is made up of fish and thus it is named as "Fishing Cat". You can spot this cat species in Ranthambore only by luck.
Leopard: Small creature of tiger in big cat species, Leopard is considered as a cunning and shy animal. They usually prefer to spend most of their time alone. Leopards are nocturnal animals and are active at night when they venture out in search of food. They are strong beasts too and can carry their heavy prey up to the trees very easily. There are large numbers of Leopards living in Ranthambore which can be easily spotted in the mountainous area of the wildlife reserve.
Caracal: Also known as Siyaghosh, because of its ears of siyah (black) color, Caracal is mainly found in Kutch of Gujarat, Ghna of Bharatpur, and Ranthambore National Park. The number of Caracal popular is half of the tiger population in Ranthambore National Park. The specialized feature of this cat species is they mainly prone to the hunting of birds and peacock is their main prey. Caracal is fast running animal that runs with a speed of about 50 miles per hour that makes it easy to catch its prey.
Jungle Cat: This cat species can be easily seen in Ranthambore National Park during jungle safari. Jungle cats are mainly reddish-brown or grey in color. Jungle Cat often hunts rats in the field and thus it is also known as farmer's friend. They love water and also a good swimmer, driving deep into the water to catch fish using its mouth or to escape from danger.
Desert Cat: Also known as sand cat, this cat species is mainly found in the desert areas. The local village wildlife watcher who is working in Ranthambore has trapped this cat several times in camera. Desert cat can survive without water for a long period of time as they absorb moisture from the food they eat. They run as fast as 25 mph which helps them to catch their prey.
Rusty Spotted Cat: The smallest creature of cat species, Rusty Spotted Cat has been spotted in a dead condition near Ganesh Temple in 2005 by locals. It is one of the rarest species of cats and also the smallest cat in Asia. They spend most of its time on the ground and hunt the most of its prey on the ground.
Ranthambore Safari is a great opportunity to spot these amazing cat species in Ranthambore National Park which is worth sightseeing. Yes, it is true that Ranthambore is mainly famous for its tiger species, but Ranthambore Tiger Safari has much more than your expectations. So, this time plan your wildlife holidays in Ranthambore National Park and enjoy the wilderness of this wildlife reserve.