There's something about period movies, telling the stories of the bygone eras. Stories and nostalgia aside, the women in those films are just stunningly dressed! Ever noticed how the female characters representing gorgeous, sophisticated and talented tawaifs or courtesans, always dressed in the most stunning anarkali salwar suits? From the 60's movies to the latest films, some melancholy songs have been picturised on the Bollywood ladies who gave us iconic anarkali salwar suit looks. Let's take a look at some of these songs.
Jab Pyar Kiya To Darna Kya
In this song from Mughal-e-Azam (1960), Madhubala, as Anarkali, the love interest of Emperor Jahangir, boldly declared her love, in a blue-and-red suit that was originally named after the legendary slave-girl.
Chalte Chalte Yuhi Koi Mil Gaya Tha
This 1972 song is one of the many wistful melodies from from Pakeezah where Meena Kumari, as a love-smitten courtesan named Sahibjaan, is seen in a subdued but beautiful anarkali that makes her ethereal.
In Aaankhon Ki Masti Ke
Rekha, in her on-screen rendition of the Urdu novel's eponymous character, Umrao Jaan Ada, is a vision in this song from the 1981-film, Umrao Jaan. She reestablishes the power of white in a stunning anarkali.
Maar Dala
This song from the 2002 rendition of Devdas based on the Saratchandra Chattophadhyay novel is like a "living legend" of the music world, where Madhuri Dixit looks ravishing in a bottle green anarkali suit.
Chilam Uthegi Nehi

Sushmita Sen looked like the epitome of gorgeousness in this song from the 2002 movie Kisna: The Warrior Poet. She was nothing but glamour in her white suit with blue chunri, and heavy jewellery.
Tumhari Adao Pe Mai Wari Wari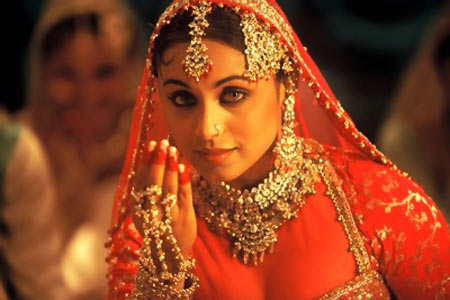 In this song from the 2005 film Mangal Pandey, Bengali beauty Rani Mukherjee looked bold and enticing in a pink suit – enough to make her co-actress jealous. The song became an iconic mujra number fast!
Salaam
This song came with Umrao Jaan's return in a new avatar in 2006, with Aishwarya Rai as the new face. She could not become as popular as Rekha, but her golden anarkali suit in the song won hearts.
Anarkali Disco Chali
This 2012 song from Housefull 2 is a reminder of how far our beloved Anarkali has traveled, from the kothas to discos. Malaika Arora's green-and-maroon suit is definitely a contemporary design of Anarkali!
Now that you've taken a walk down memory lane and feel totally inspired to recreate those dramatic looks, you can check out the wide collection of anarkali salwar kameez online and look exquisite in a suit that has made its way to the 21st century from the Mughal Era.  
Author Bio: Oendrila De
Pen is mightier than the sword, they say, and Oendrila believes in it. She loves to write. It is through her words that she expresses her thoughts and opinions. She considers the social media platforms a powerful tool to hold constructive discussions, and raise awareness about various issues – and words are the only way to go about it. That's how she tries to survive in this big bad beautiful world.