In order to make your everyday life more interactive and resourceful, some great customized interior products that give a new direction to our life, have hit the markets. The products are greatly compatible with all kinds of living or working spaces and turn every mundane daily routine into more interactive and information oriented. Examples of some of the popular interactive interior products in the market are:
Nothing is dearer to any person than his bathroom or kitchen, where he/she spends almost half of his life in total privacy (in case your home is not too crowded). The new development in the field of innovative communication, interactive mirror technology assists a person to access his mails, Facebook or Google and just about anything using the surface of Multi-touch mirror installed on the wall. The interactive mirror provides complete HD resolution that makes the experience all the more memorable.
This customized surface helps the user to extend the surface as per his requirements. The Touch and Play (TAP) technology works in collaboration with all the necessary hardware drivers and algorithm based programs to provide you a perfect bar experience.
Undoubtedly one of the best interior design ideas in recent times,multi-touch video wall offer lifetime experience and unique platform to the users to view the content and interact with many people at one go using the multi-touch capability of the revolutionary interior product.
Have you ever wished your home walls, floors and ceilings to be as interactive as you are and break the monotony in your life by producing continuously changing environment around you? In case you do,there's a chance for you. The new interactive floor technology provides you software that could even be installed on PC and produce such stunning effects through a projector on your floor.
Drinking coffee could not have been more pleasant and informative than with a multi touch coffee table. The table is an added version to the existing modern day touch tablet PC with features such as 3D files, media, images and what not. There is no other way better than to socialize and collaborate with people on a coffee table than through this wonderful innovation.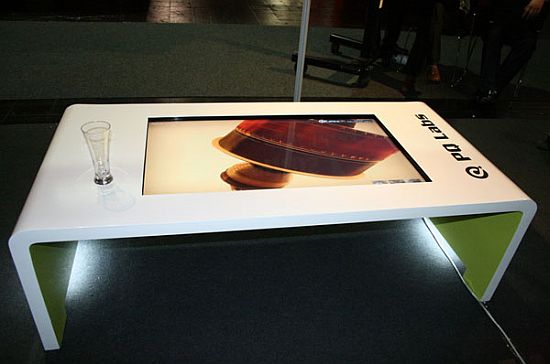 Interactive interior designs are always beneficial to instill a new lease of life in monotonous setting of the daily order. The interactive age has finally arrived on the scene and such products surely act as gateway to information. Therefore, as the advancements in technology are entering the world with each new day home interior products are assisting in making our life more informative and pro-technology.