Nowadays two sided fireplace has become very popular, and many people install two sided fireplaces in their house, to enhance their architectural splendor. The double sided fireplaces are popular because they provide both warmth and at the same time beauty to two spaces at the same time. These fireplaces are situated in such a way that they can be viewed from two adjacent rooms and not only that, but they can also act as a barrier between the interior and the exterior space. This means that if you want that both your living room and your external space to have warmth and at the same time beauty of the fireplace then nothing can be better than a two sided one. These fireplaces are also very popular because they are very fashionable and at the same time, very luxurious. This is all very good but then this particular heater has some problem and that is why if you are also planning to install a two sided heater in your house then you should also be aware of the issues that are there. So, let's have a look at it.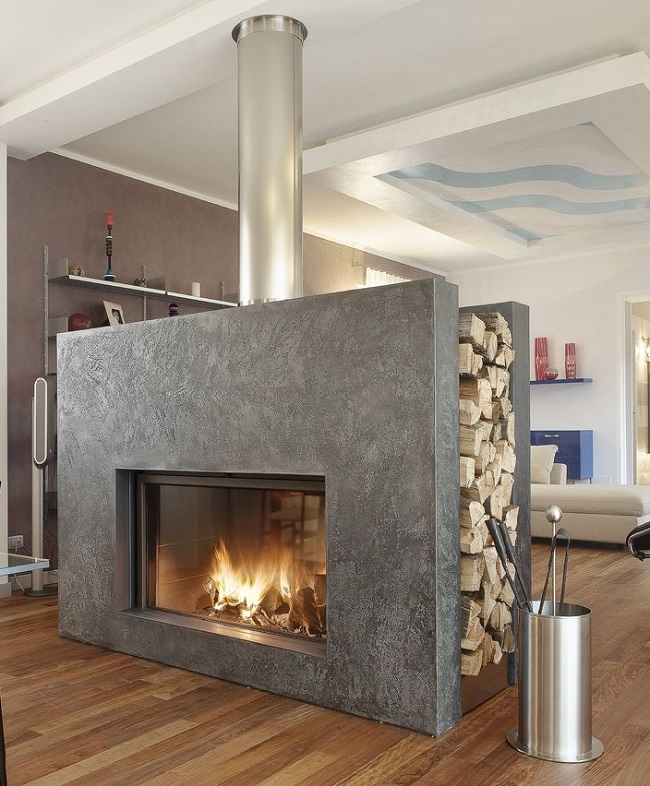 Minor hitches here and there: problems with Double Sided Fireplace
Double-sided fireplace can face issues and for that you should know about them before having these in your house. So, here they are for you:
No Back Side

As this kind of heater is a two sided one therefore there is no back side of it. Thus the smokes from the fireplace move out from one side of the room to the other side. You can try to control this by opening the damper but this does not solve the problem easily but rather it makes your room smoky and untidy. It can also lead to constant suffocation and other health problems. But there is one way to solve this problem and that is by putting a glass door on both the sides. Not only that if you are in one room then you should make the door that faces the other room, closed. This will prevent your room from getting smoky.

Problems With The Damper

The damper in a chimney is an important thing and if the damper does not work properly then your chimney will either get more oxygen or it will get less. In both the cases, the fire will not burn properly; and thus the purpose of keeping a heater inside the room will be rendered useless. But when you are using a double sided fireplace, you should know that most of these heaters have problem with the dampers and if you have problem with the damper then there is one thing that you can do. You should firstly remove the debris around it; a skilled mechanic can clean the soot and grime, and secondly you should also clean the flue. This will maintain your damper and at times you can also change the lubricants of the machine of the heater to make it operate properly.

No Caps In The Chimney

If you have a heater that has two sides then it is likely that it will not have any cap; though at times it is not at all necessary for the fireplace to have caps but then at times it is also very necessary. When it is necessary to have a cap in your chimney? Well, when the thing has lots of steam in it then the water streaks out and goes along to the bottom of the chimney and at times it also streaks along the side walls of the chimney.
It is essential to clean your double faced fireplace regularly, and also arrange for special maintenance schedules once in a month. This will definitely increase its longevity to a large extent.
This blog is intend to provide you useful info about double sided fireplace for your home. If you are looking for more details then come & get more information.