In order to reach a particular height, ladders are used by workmen as it helped them to complete their work at height. In the industrial world as well, a lot of work happens at a height that can be accomplished by a fixed access ladder that provides ease, convenience and easy access to mezzanine floor and roofs. In fact, they not only provide ease and convenience it is also a very cost-effective tool to solve all the vertical problems. 
Fixed ladders are available to resolve all your vertical problems. Ensure that you buy a quality slip-resistant ladder because you don't want any unwanted accidents at work due to slip and fall.  This is extremely important as you will be at an elevated height performing tasks and the last thing you want to do is to put your life in danger. The installation of these ladders does not take very long. You can hire professionals for this job perfectly.
Look for sturdy fixed access ladders. The material that the ladder is made up of will determine its strength. You can generally choose between steel, aluminum, and fiberglass ladders to reach exterior roofs, elevated platforms, and hatch access. These ladders are specially designed keeping in mind that they will be used to perform tasks at various heights and in uncertain weather conditions. The design allows them to access places which were practically dangerous to reach or climb. Ladders have become an efficient and essential tool for workers to stay safe on the roof.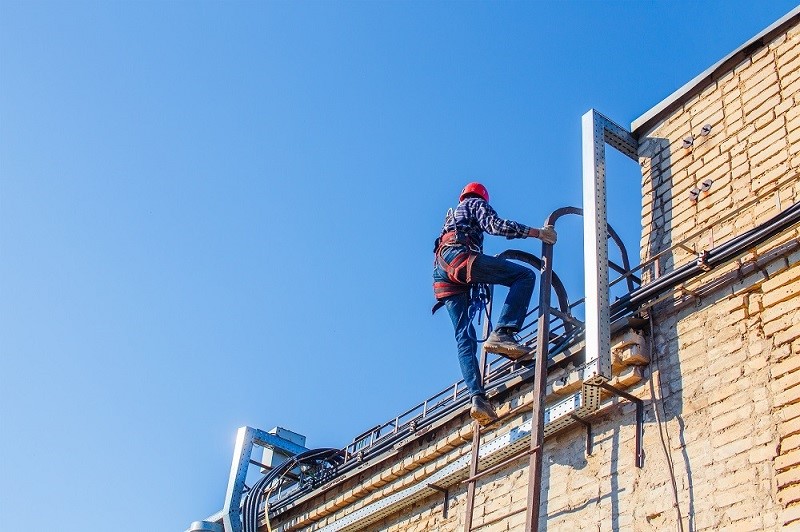 #1. 90 Degree Fixed Ladder: A lot of effort is required for vertical climbing hence you should use 90 degrees fixed ladder that has round sturdy rungs that provide, support, comfort, and safety. The round rungs are specifically designed to provide ease, balance and natural support to your feet.
#2. Fixed Angle Ladders: As stated earlier, there are different types of tasks that need to be accomplished vertically and for that fixed-angle ladders should be used. They have been designed keeping in mind the nature of work that needs to be done at different angles. Flat steps provide ease and immense support when climbing at a particular angle. These ladders also have handrails that provide support and a comfortable grip whilst climbing. The bespoke engineered parts not only provide comfort but also safety.
#3. Roof Ladders: In order to access rooftops, special roof ladders have been designed which are fitted with a hook on the top which holds the roof thus protecting you from falling. Generally, such ladders are made up of aluminum which therefore makes it durable, sturdy, and robust.
#4. Mezzanine Ladders: Mezzanine is one of the most perfect spots to increase the storage capacity of your warehouse. Mezzanine floors are basically not permanent. These are added separately or you can call them faux floor which is built separately within the existing building structure. In order to access such floors, you need mezzanine ladders. Such ladders are custom engineered based on your needs and requirements. Ships ladder and folding wall ladder are two basic types of mezzanine ladders that have extra deep threads for superior foot grips, thus allowing your worker to climb it comfortably. These come handy every time you want to access this mezzanine.
In order to provide a safe and entrusted working environment, fixed access ladders should be used by employers so that the safety of the employees is not compromised. Before buying the fixed access ladder check the maximum load it can handle and also up to which height the ladder can be extended and used efficiently. This is extremely important and such details help in curtailing dangers and mishaps. Go ahead and install the ladder now!