Industry Experts, Inc. unveiled a new 2019 version of its global market report on Natural Vitamin E. The new version of the report entitled "Natural Source Vitamin E (Tocopherols and Tocotrienols) – A Global Market Overview" reveals that Asia-Pacific emerged the largest market for Natural Vitamin E and also projected the fastest growing market through to 2024 with a CAGR of 6.1%.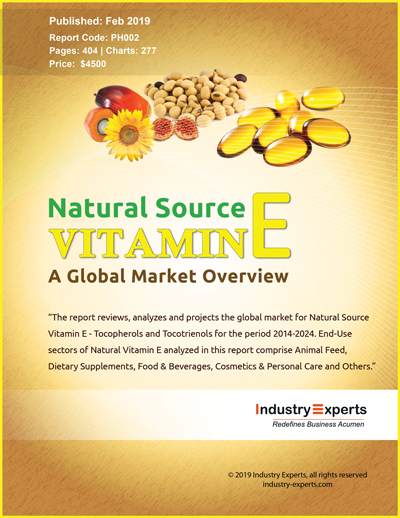 Natural vitamin E demand will stem from increasing usage in food & beverages and cosmetics & personal care sectors. Emerging economies have been witnessing a paradigm shift in terms of shortage of time and eating patterns, triggering a growing demand for vitamins that can enrich food and drink. Natural vitamin E enriched foods are full of supplemental nutrients that can offset any nutrients that an individual's daily diet lacks. The natural vitamin E industry is also likely to be bolstered by increasing usage of products that enable in preventing aging of skin and promise several other benefits to the skin, such as UV protection and moisture content to maintain a healthy and youthful appearance.
Natural Source Vitamin E products analyzed in this study include Tocopherols and Tocotrienols. The end use application markets covered in the report comprise Animal Feed, Dietary Supplements, Food & Beverages, Cosmetics & Personal Care and Others (pharmaceuticals, medical and infant nutrition).
Contact Information:
Industry Experts Inc
14726 Ramona Ave
CA 91710
USA
Phone: 3204973787
Find More: http://www.prnob.com/release/show/global-demand-for-natural/44469