Hair fall is experienced by almost everyone. First, it used to be considered as a problem for those who are aging above 40 or 50, but now, it has been faced by people of every age. Sometimes, this hair loss is due to the natural process of hair growth cycle but when hair gets to fall quite heavily and noticeably, it must be treated right away. The problem here is that not everyone is able to afford those extremely expensive hair loss treatments, therefore, here are some effective tips one can follow to prevent hair loss to some extent.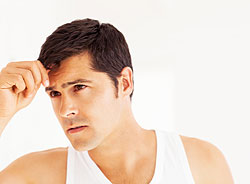 First, it is important to know that every type of hair loss cannot be prevented without a treatment. Hair loss caused by nutritional deficiencies, stress, lack of necessary hair care and due to certain medications can be treated without any medical hair restoration procedure. But hair loss due to inherited diseases such as Androgenetic Alopecia and other serious medical issues cannot be prevented without specialized treatment procedures and medications. Here are some useful tips for controlling preventable kinds of hair loss.
Maintain a Healthy Lifestyle: To enjoy a healthy lifestyle, it is important eat healthy, include exercise and workout in your daily routine and take a fine sleep for 7-8 hours per day. A healthy diet plan always contains large portions of fruits, vegetables and dairy products including eggs, yogurt and milk. Meat, nuts and green leafs contain large quantities of protein, zinc and iron which are the essential components required for hair strength and growth. Moreover, maintaining a good workout routine just requires few minutes of your day. Exercising for about half of an hour is fine enough. Meditation is also quite helpful.
Avoid Damaging Styling Techniques: Avoid all those hair styling techniques that damage your delicate hair line such as a tight pony tail or a cornrow braid pulls your hair really badly from the surface, causing hair loss. Styling instruments that provides heat to the hair are very harmful and cause severe hair thinning and hair fall. You can use the instruments but don't make it a daily routine.
Keep your Hands off your Hair: People have this habit of constant pulling, twisting and rubbing their hair, whether intentionally or unintentionally. Try to keep your hands off your scalp and if you're doing it unconsciously, ask people around you to keep reminding you.
Try Home Remedies: Coconut or Almond oils are best remedies for hair loss. Try to apply and massage them on your scalp as they help enhancing the blood flow hence strengthening the hair follicles. These oils are really helpful for conditioning as well. Onion juice is also very effective as it contains high quantities of sulphur. Aloe Vera, Neem leaves, Indian Gooseberry commonly known as Amla are best herbs for providing strength and volume to your thin and weak hair.
Use Hair Growth Supplements: Minoxidil is one of the scientifically proven drugs that is very helpful in treating hair loss. Women using this medicine has observed a significant improvement in their hair loss. It is basically a hair nutritional supplement that enlarges hair follicles and ensure healthy hair growth.
Stress Management: People going through continuous stress and trauma experience hair loss the most. Try to take things lightly and clear up your mind.
These are some of the preventive guidelines that might control your hair loss. Other than these easy and practical steps, Toppik Hair Building Fibers are also proven to be the best remedy for hair loss.