If you are a user of the most famous social media website Twitter, then I am pretty sure that you are must be sick of different bots or Bieber haters or lovers spamming the feed of your twitter with self promoting and nonsense tweets. It is a blessing that there is a way to enjoy your Twitter feed without being interacting with those unwanted posts.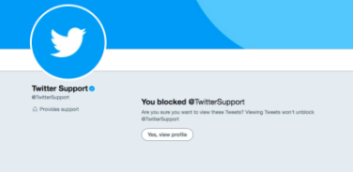 There is a solution to this problem and solution is pretty simple, just block that certain account on twitter which is causing problem to trouble. Not just Twitter but Facebook and other social media websites gives you an option to block certain people in your account so that you don't have to deal with them. If they are harassing you, disturbing you directly or even indirectly you can block them and they will disappear permanently from your Twitter world like they were never there to begin with.
How to Block Someone on Twitter?
1: Click on that specific person's account. It can be done from your Twitter account or via your follower page.
2: Click the Gear Button
There you will see gear button, that gear box is actually a settings option, hit it.
3: Hit Block (Username)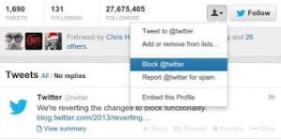 There you will see an option of block in the drop down menu. Just go there and select that option.
In order to download videos from Twitter, you can visit several platforms both websites or apps.
By following these simple steps, that account would no more offend you as you would never see that person's tweets on your timeline anymore and nor that person would see yours. They were also not able to add or follow you. It is certainly understood that if your account is public, all that anyone can do is to see your name and visit your profile and go through your tweets, so if you want some privacy then do lock your account.