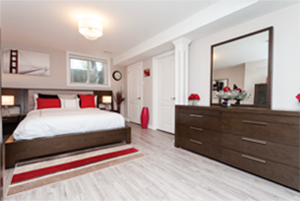 At certain times, many homeowners begin to search for free space in the house to make extra space for their needs. And to finish basement as a living room is a great idea.
Today we are going to talk about how to realize your dream and turn the basement into a cozy living room. This choice is a perfect way to create additional space. It also allows you to pamper yourself with a quiet and fairly cozy holiday at home. What you need is a proper layout and creative thinking.
Read the following tips that will help you properly equip and arrange an ideal living room in the basement of your house.
It is always cool in the basement, even in hot weather. Therefore, remodeling a basement in a comfortable living room, you should make a high-quality insulation and cover the walls with wood, because it is an excellent insulator and preserves the heat in winter cold perfectly.
Additional insulation will make your room quite cozy and will not let in extra noise. To make it warm enough, you should fill up the space between wooden panels and concrete walls with the fragrant sawdust of pine or spruce. This will create additional comfort in your living room. In some buildings there are quite capacious basements with narrow windows at the foundation level. It is also possible to equip both a cozy living room and a bathroom.
You can make a living room, creating a visual space with the built-in wall mirrors. Perception of space is a very funny thing. You can even equip a tiny room so that it looks spacious and elegant.
There are quite a lot of various tricks that can be applied in the basement. Vertical stripes, built-in mirror walls make the room visually higher and more spacious. Try to make the background of the entire room as neutral as possible, add decorative wooden walls in warm colors to ward off any boredom. Use pastel colors to decorate your living room and try not to use more than two prevailing colors.
There is no sufficient natural illumination in many basements, so it makes sense to paint the room in golden-yellow tones or soft cream to turn it into a cozy and warm living room.
Now it's time to talk about the ceiling and the floor in your new living room. To trim a ceiling with plasterboard with built-in diffuse lights is the most appropriate option in this case.
Laminate, special tiles or carpet are suitable for the floor in a new living room. The floor covered with these materials is the ideal choice for a basement. Stylish carpets will help make the room more spacious. Add the necessary color and pattern, and the built-in fireplace. It will make your living room more comfortable and charming.
You can also consult specialists of basement services and ask them for professional help.
The main thing is to have an imagination and desire to make your house unique and cozy.