China Innovative Home Vacuum Sealer Supplier Yeasincere offers Innovative Home Vacuum Sealer OEM ODM, white and silver color contract production, with Detachable roll holder, built-in cutter.
a)Name: Innovative Home Vacuum Sealer with Roll Holder and Cutter.
b)Keywords: vacuum sealer, vacuum food sealer, vacuum sealer with roll storage and cutter, home vacuum sealer, automatic
vacuum sealer.
c)Features:
1. Low Noise.
2. Vacuum hole on upper cover.
3. High vacuum degree: -0.60 ~ -0.80bar.
4. Detachable roll holder and cutter.
d)Sell point: Detachable roll holder and built-in cutter.
a)Specification:
1. Low noise when working.
2. Hands free operation, three-button design, press one button "Vacuum & Seal" to finish a circle working.
3. Individual heating and sealing function is available.
4. Pre-seal the vacuum bag any time when vacuuming.
5. Extra vacuum port on top of the machine for vacuuming canisters.
6. Extra roll storage and cutter accesory included.
7. Vacuum degree: -0.6 ~ -0.8 bar.
8. Wide sealing line (up to 3mm) prevents air leakage and keeps high vacuum degree for a longer time.
9. Detachable vacuum chamber.
10. Sealing line: MAX 30cm.
11. 100 ~ 240V, 50/60Hz, 150W.
Certifications: CE/GS/RoHS/ERP.
Quotation Validity: 30days.
Payment Term: T/T or L/C at sight.
Delivery: 45 ~ 55 days.
PACKING:
Gift Box Size (mm): 416 * 188 * 194.
Master Box Size (mm): 429 * 413 * 384.
Master Pack/Weight (kg): 6pcs/pkg, G.W.: 9.70kg, N.W.: 9.00kg.
Container Load (pcs): 20FT  2200 / 40FT 4770 / 40HQ 6000.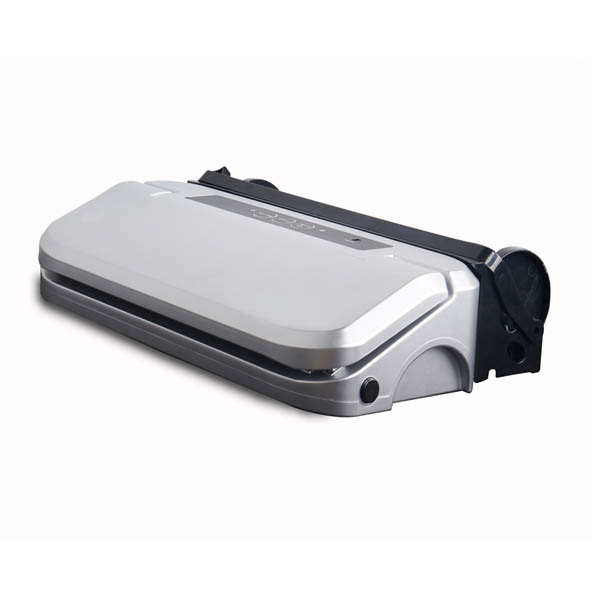 Save