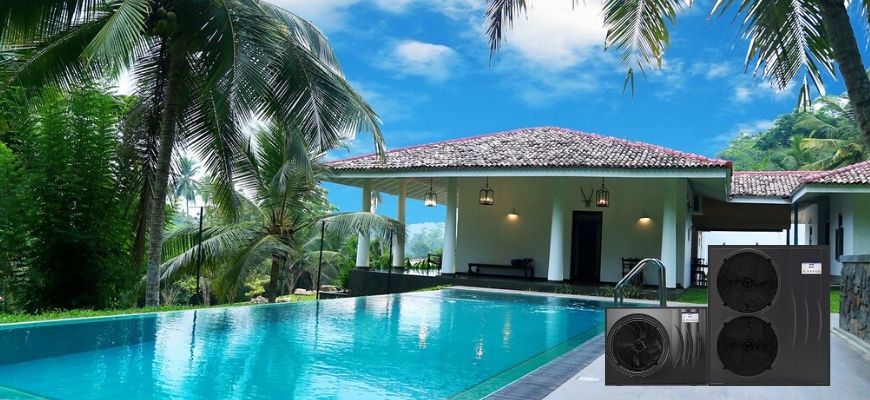 Well, temperatures of pool water can considerably dip after a few days of cloudy weather, which can discourage even the toughest of kids. The sole purpose of heating your pool is to enjoy uninterrupted swimming throughout the year or most of the year. Old ways of the heating pool were pricier and inefficient. With advances in technology, we have cost-effective and efficient methods such as pool heat pumps and solar power that use pool heating panels to heat the pool.
How do pool heat pumps operate?
Pool heat pumps draw in the heat and humidity similar to a reverse cycle air conditioner. Heat pumps are capable of generating five times as much heat as the energy it ingests. You can install a heat pump on the ground, and it needs a modest space, which is ideal for a small swimming pool.
Advantages of a Heated Pool:
Swimming becomes more enjoyable.

It increases the swimming season.

You can use it for daily exercise or therapy.

Pool's warm water is good for joints and muscles.

Pool's warm waters relieve stress.

It becomes a feature of your home.

You can use it for outdoor entertaining purposes.

It boosts your property's value.
Pool heat pump's renewable heat transfer tested to be the most efficient type of pool heating method. Pool heat pumps are super-efficient to keep your pool warm for when you require it.
Is a Pool Heat Pump better than Solar Heating?
When selecting a pool heating system, there are various factors (including your requirements and where you reside) that need consideration to decide which type of pool heating will work fine for your home pool. 
Here are some questions that you may want to ask yourself:
How often are you going to use your pool in winter, spring, and autumn?

Is your pool covered by shade all the time or it receives sun's light during the day? 

What is the frequency of wind? 

How is your outdoor ambient temperature?

How much is the volume of water in your pool?

Would you swim regularly? And would you be swimming daily or only on weekends?
Your pool's size, budget, and preferred energy source needs consideration to ascertain which pool heating method will be perfect for you.
How much time does a heat pump take to heat the pool?
The time required to heat a pool depends on the unit's size and its heating efficiency, the bigger the heater (KW), the speedier it will heat the pool. Its recommended buying a bigger-sized heat pump, as it will be more resourceful operating at half the capacity (particularly inverter) than a smaller unit that runs at its full load. A right-sized heater should heat your pool to the desired temperature in 10 hours or less in colder months, particularly for the much-needed heating season.
What happens once the heat pump attains the set swimming temperature?
Heat pumps have integrated thermostats that monitor the pool's temperature. When the set swimming temperature attained, the heat pump automatically switches off. It becomes active again when the pool's temperature dips by one degree less than the set temperature. Inverter heat pumps having this technology facilitates to achieve higher efficiency by dropping to a slower speed.
What is the coldest temperature at which a heat pump can operate?
Heat pumps can run down to zero degrees, and some variants can run at a much lower temperature of -10 degrees. In these cold temperatures, you'll see defrosting — it's a process to shield the heater from freezing in low temperatures. It's an automatic procedure where a reversible valve frees the heated-refrigerant at the compressor back to the condenser, to halt frosting.
What is the lifespan of a pool heat pump?
With timely maintenance, quality pool heating systems from trust brands will last you anywhere between 10 and 15 years or more.
Is the pool cover mandatory?
Well, all pools should use cover to retain heat within the water and to halt water evaporation, which will waste-water and require refilling the pool. Besides, they help protect the swimming pool by keeping the debris out when you are not using it.
Final Thoughts!
If you are having a small to medium size pool and not living in the coldest region, then a pool heat pump is the right choice for you, which you can blend it with a solar pool heating system (if your area receives sunlight) to obtain the best pool heating results. Conversely, if your home has a large swimming pool and receives sufficient sunlight, then a solar pool heater is the way to go!