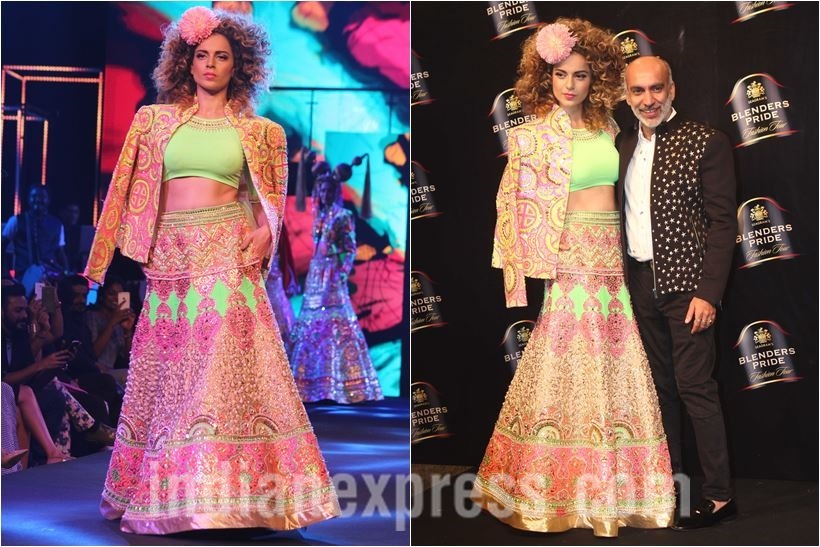 Kangana Ranaut, the vogue chameleon best sort herself in rich layered color plate of Manish Arora at Blender's Pride Fashion Tour 2016.
Breezy abandons of her curls and fashion ascended headgear with intrigued ensemble of stop-and-stare lehenga choli collections by Manish Arora was an unpredictable down pouring of the season.
This December 2016, Grand Hyatt Mumbai explored the duo, fashion Queen Kangana Ranaut as the muse of designer Manish Arora. His extravagant wedding collections delineate the theme as "The collection – Indian". Each silhouette narrates the kaleidoscope dynamism of young Indian brides in adhering the tradition but with a contemporary outburst of embellishment on a melange of hues.
Multi-colored designer lehenga choli with jacket ensemble in rich embellishment of embroidery work. Manish Arora, known for his out of limit envisage conferred on multiple facet attributes of fashion. Such pompous color under neon light and mastery craftsmanship speaks the bottom line "Life is beautiful".
And no one else than Kangana Ranaut can flaunt with extraordinary charisma of such edgy statement outplayed in intricacy of fierce to demure. She takes our breathe a notch higher in pump and energy too!! Our goose bump gets intensified when Manish hugs Kangana and tears sheen his cheeks with pride. When an artist or designer gawk his creations in life with a perfect showstopper in front of the world…..nothing can be more successful than that!!!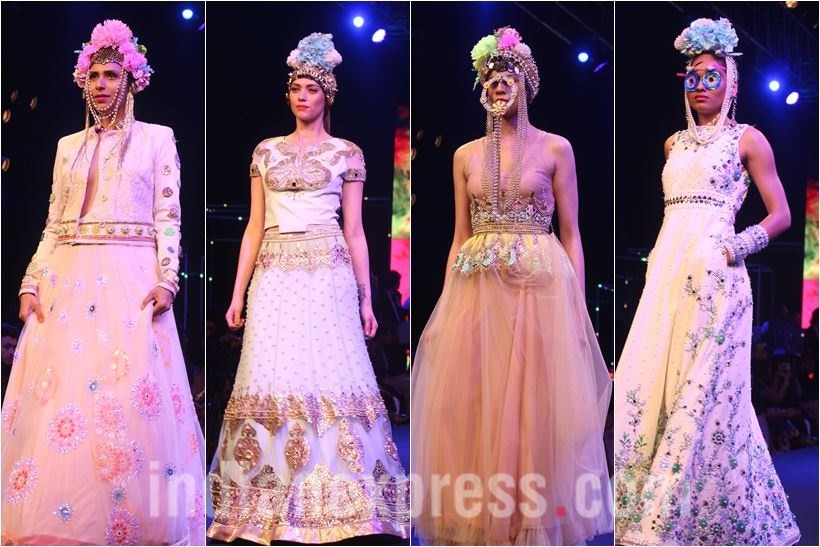 All he endeavored is to globally connect Indian women in diction of fashion where sartorial choices, accessories, and styling ensemble comprise tribal, indigenous and western royal highness.
On a neon base hue vibrant and bright colors are arbitrarily brushed just to let us skip from same red color for bride as well depicts the tribal culture of Rajasthan. Whereas the headgear of floral and metallic fineness held the hairdo in a blend of fun and western royal fashions. With inspiration from Cleopatra and Egyptian royal women he stylizes ethnic brides in an adorable presentation on wedding party.
The runway was opulent with ornate clothing, exclusive accessories, line up of colors, bold makeup, stunning head gears and hairdos. The craftsman detailing on choli and jacket ensemble with splurge of colors and jeweled work of fine embroidery embellishment revealed the free and enchanted spirit of women of the genre.  
Manish Arora has associated his name with the list of something extraordinary out of ordinary. His latest designer lehenga has all oomph factors that can feature you out of the crowd. Tapping the mood of the event was Raghu Dixit and MIDIval Punditz music which drives us mad in tune with the show.
If you are just running through pages of calendar to fix on your D-day attire this designer lehenga collection can be a guide to make your choice out of traditional red and yet look every bit gorgeous. Not just attire accessories take a grand part in playing your charm and mood too. So here you go with an entire breakthrough in a tune of obeying the traditional Indian norms.
Designer lehenga online can assist you to know the latest collections and never like before benefits in availing those. Sareez.com has showcased lot in taking you through stock of all renowned brands of wedding lehenga choli and accessories as well. Be the early bird to browse and get the best-fit challenge!!