Like all other parts of human body viz. skin, hair, face and so on, the nails also need to be looked after in a good way so that they contribute to our good looks. Manicure and pedicure are thus really important procedures to provide care to the growing nails of hands and feet respectively. Professionals working in beauty salons know how to carry on with both of the procedures. Both manicure and pedicure mean far beyond just cleaning and polishing of the nails. On a broader level, they are kind of treatments that help in replenishing the nails so that they look better and healthy. Normally you will see that there are four major kinds of manicures and pedicures that are offered in various beauty salons. The materials and techniques used for the different procedures might vary.   These are four basic types of manicures and pedicures generally offered by salons: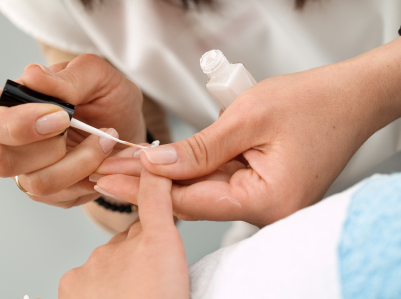 1. French Manicure and Pedicure: The French manicure and pedicure is one of the most popular treatment types concerning both the procedures. It imparts clean and natural look to the nails of both hands and feet. Maybe this is why women around the world love this basic manicure and pedicure type. You will see many of the beauty salons offering this kind of basic treatment type. The treatment is characterized by neutral colored nails featuring white nail tips. The nails shapes can be opted as round, oval and square. Sometimes professionals use stencils for cleaning the nails and then applying the general white nail polish to the tips. Beauty techniques like hand & feet massaging, pumice scrubbing and moisturizing are also provided in this kind of manicure and pedicure treatment.
2. Regular Manicure and Pedicure: The regular manicure and pedicure involves some basic steps that are known to most of beauty professionals. First, the hands and feet are re-soaked inside soapy water. This leads to softening of dead skin and also softens the dry nails. After sometime, the techniques like scrubbing, nail clipping, massage, moisturizing and nail polishing are done onto the nails.
3. Paraffin Manicure and Pedicure: In this form of manicure and pedicure a substance called paraffin is used for providing better health and hygiene to the nails of hands and feet. In its waxy form the paraffin is applied to both hands and feet and thereafter the cleaning, nail-shaping and polishing methods are applied to both hands and feet.
4. Nail Spa Manicure and Pedicure: You can speculate from the name itself that in this kind of procedure the fingernails and toenails are given a spa treatment for manicure and pedicure. This is a bit costly method but it does relax your skin as well as the
nails
Just like above mentioned manicure and pedicure methods, there can be numerous different methods that beauty salons can provide to you. Ultimately, you do all this for getting healthy, hygienic and beautiful looking nails. Manicure and pedicure  Melbourne can be done by going to professional salons that provide Manicure in Melbourne and Pedicure in  Melbourne.
Author: Claire Francoise Salon is an award winning French nail salon in Melbourne. We provide a high quality, professional & efficient service to both male & female clients