Marantas, Calatheas, Ctenanthes and Stromanthes are members of the Marantaceae (arrowroot) family, which also includes Thalias. These family members are considered some of the most attractive and spectacular species of foliage plants. During the day these beautiful plants displays their colourful leaves with in all their glory and then when night falls they folds up their leaves displaying their contrasting undersides. This ability give the name of "prayer plants" to these Marantaceae family members, a wonderful adaptation to make the most from the sunlight in deep and luxuriant rain-forests.
Marantaceae family members are considered as the best indoor decorative plant to add colors and attraction in desired area. They are suitable for group plants as well, offering an attractive tropical look. Marantaceae members are great plants for indoors, offices, terreriums and greenwalls. These plants do well under fluorescent lights.
These plants would look great on the floor in a corner that needs that something but because they are only short they will suit a position on a low coffee table or a large table where you look down on them and capture their full beauty.
MARANTA
The Marata plants are the smallest member of the familly: Most leaves are about 15cm (6 inches) long. The Maratas has a spreading habit.
Maranta leuconeura kerchoviana and how to care a Maranta plant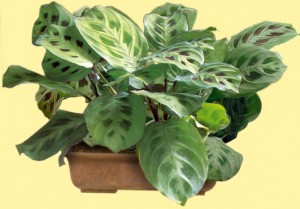 CALATHEA
The leaves of the Calathea genus exhibit an array of beautiful patterns. Most have a reddish underside, and they can grow up to 40cm (16 inches) long.
Calathea warscewiczii and how to care a Calathea plant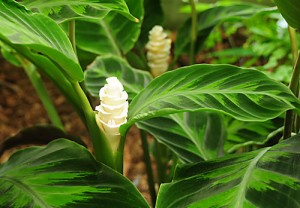 CTENANTHE
Ctenanthe produce more compact clumps of leaves and the leves are usually narrower than those of Maratas and Calatheas. It is the most prevalent indoor plant and has thin leaves that grow up to 45cm (18 inches) long.
Ctenanthe burle-marxii and how to care a Ctenanthe plant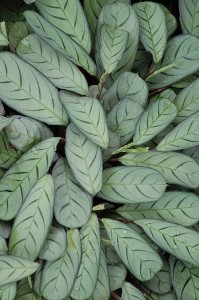 STROMANTHE
The leaves of Stromanthe genus are oval-oblong blunt ended, but with a small pointed 'tail'.
Stromanthe sanguinea and how to care a Stromanthe plant
Marantaceae members require medium maintenance and are an excellent choice for a tropical look in containers. Colorful foliage makes this a wonderful houseplant selection.