A mini-aquatic garden in a tub or other container located close to the house on a deck or patio, can provide you with a unique and relaxing atmosphere. Containers are a great way to try out the idea of water gardening without committing to a larger, more permanent pond. In this way a mini-aquatic garden is small commitment in terms of finances and labour. It doesn't require special aerators or filtration if set up and properly managed.
How to create a mini-aquatic garden
A container with a capacity of 50-100 litres (approx. 15-25 gallons) is practical. Many commercial containers are available or you might consider things like small kiddie pools, horse watering troughs, lined whiskey barrels or even old bathtubs. Recommended container depth is 0.6m (24 inch).
Choose containers with interiors that are dark in colour. Dark green, charcoal or black colours are suggested because they give the container an impression of greater depth, discourage algae growth, and make algae less obvious when it is present. Stones and slate can be added for interest, but keep in mind that choosing dark colour rock will help discourage algae.
Locate the mini-aquatic garden so it receives a minimum of six hours of sun a day. Most aquatic plants need full sun. Some of the bog plants can survive in less. Less than six hours will decrease the blooming potential of aquatic plants.
Plants used in small aquatic gardens are grown in separate pots and then these pots are placed into the water-filled container. Heavy clay garden soil is used as a potting media. After the plant is potted, top the soil with 1-2cm (0.5-0.75 inch) layer of pea gravel to help keep the soil in place. Set your plants in the water container. Some aquatics prefer to be placed at certain depths in the water. Adjust the depth of your plants by placing bricks under the pot so the crown of the plant is at the preferred depth. About 50 – 60% of the water surface should be covered with plant material.
Take note of the type of water used to fill your container. Tap water is commonly treated with chlorine. It is a good idea to let the water-container filled to sit for 24-48 hours before adding plants or you can use a water conditioner to eliminate the chlorine.
A mini-aquatic garden is a miniature ecosystem of plants, water and fish. This system must come into balance which means that the plant and animal life are able to hold the algae growth. It will take approximately 3-4 weeks for this to occur. Two weeks after you set up the mini-aquatic garden, the water will turn cloudy with algae. In another week or so, the water will clear and remain that way. The aquatic plants and animals keep the algae under control by reducing the sunlight entering the water and competing with the algae for nutrients in the water.
Aquatic gardens need a mix of plants to attain a balanced system. These plants can be a combination of Water lilies and lily-like aquatics, marginal plants, bog or moisture-loving plants, submerged or oxygenating plants and floating plants.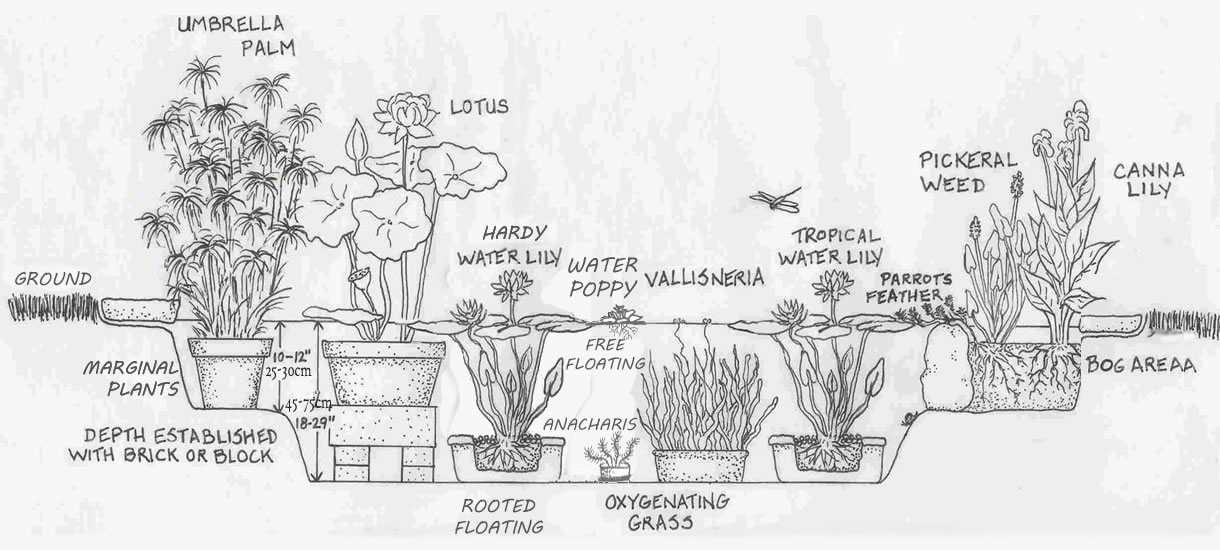 Rooted Floating Plants (Water Lilies and Lily-like Aquatics): These grow on the base of the pond and send up leaves and blooms to the surface. Depending on the variety, they may grow a couple of inches to a few feet below the surface of the water. They provide valuable leaf cover to help shade the water, which reduces algae growth. Fish love to hide under the leaves too. Lilies do not do well with strong water movement or splashing water. Most species need full sun 10 hours a day for best blooms. A pond should have approximately one lily for every 0.5 to one square metre (5-10 square feet) of pond surface. There are many different colours and styles of lilies.
Marginal Plants (Emergent Plants): These grow in the shallow margins around the edge of the pond. It is helpful if a shelf is incorporated in the pond design to support them. Marginal plants can be decorative, provide shelter from the wind, and offer a bit of shade. These plants do best in still to slow moving water.
Bog Plants (Moisture-loving Plants): These grow in damp soil at the edge of ponds and prefer to have only the tips of their roots submerged. They also do best in still to slow moving water. Start with a mixture of marginal plants and bog plants inhabiting about 1/3 of the circumference of the pond.
Submerged Plants (Oxygenating Plants): The roots of these plants are anchored in soil, but the leaves stay underwater. Their foliage is usually fern-like, lacy, or hairy. They play a vital role in maintaining the pond's natural balance. These plants use waste nutrients and help purify the water. This, in turn, creates an environment that is unsuitable for algal growth. They also provide cover for microscopic forms of life. It is best to include one bunch (these plants are sold by the 'bunch' or handful) for every 0.2 square metres (two square feet) of pond surface.
Floating Plants (Free-floating Plants): These plants do not need soil or a base of any kind. As the name implies, they are simply suspended in the water. They provide decoration and shade and help reduce algal growth. One bunch is sufficient for every 0.9-1.4 square metres (10-15 square feet). These plants are vigorous growers and will need to be thinned periodically.
The best time to move most water plants is during their growing season, from late spring until the end of summer.
Tips:
Don't use a commercial potting soil mix or any type of soil mix containing fertilizer.
Do not add chemicals to the mini-aquatic garden water.
You will find more suggestions and plants care description on www.plantsrescue.com