Comfort, versatility and fashion are three important elements when it comes to embracing outfits for daily wear. Some find Indian outfits comfy while some find western outfits hep and fashionable.
From college occasion to cultural parties and from formal office meeting to catching up with your old friend or relative – cotton suits are always the best!
One can never compromise cotton as a fabric and its usage in different daily wears.
Soaring temperature has raised the demand of crisp cotton suits and kurtis in different stylizations. Different occasion demand different variations in styles and one must be experimental to try out different styles.
You need not wear a salwar suit always the way it is worn. Let me take you through some of the classy ways one can wear ethnic outfit to office or college, without making you look gaudy or mundane.
1.Chikankari Kurti On Jeans

Crisp white, pink chikankari designer suits are in fashion today. It's absolutely a great choice for a morning occasion.
Long chikankari kurti can be paired with a bright colourful palazzo, 'chic' leggings or blue jeans! Wearing blue jeans on a crisp white chikankari kurti with a bright floral scarf and an oversized bag makes a style statement to office or college.
2.Waist Coat On Kurti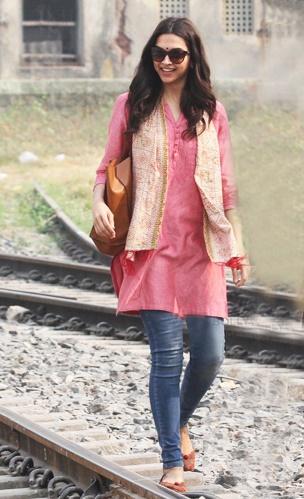 A short sleeveless patterned waist coat could be a best choice to wear over a plain kurti. This breaks the monotony and gives a refreshed look.
3.Kurti on a Patiala

Well-pleated and perfectly flared, colourful Patiala model salwar is the best style to sport over a short kurti.  You can nail a typical Punjabi look by adding few more elements like jaipuri bag and kolhapuri jhuttis.
4.Add more Volume with a Colourful Scarf
Wearing a typical salwar look is more cliché nowadays. Guidelines of stylizations are mainly adding new elements to your typical look. Colourful floral scarves are one of an option and it goes well over Patiala and churidar designs.
5. Skirts over Salwars
Salwars and Palazzos have been making highlights in the fashion industry. You can either wear a front slit kurti or A-cut kurti over a palazzo or skirts. In this way you are not only redefining the look but being a trendsetter.
You can either wear the scarf double-side or single side or wrap it up in front and back in loops. A big statement watch, flowy hair and loafer shoes – will give you that no-care look!
6.Cigarette Pants or Churidar design Salwar
The kind of bottom wear you choose for a salwar or kurti determines your overall ethnic look. Cigarette pants or churidar pants gives you a neat look without many creases, making you look less odd.
Thus, with much of options to stylize yourself – make your everyday wear an option for others to follow!