In India, Banarasi saree or fabric is synonymous to weddings and this wedding season, Banarasi silk suits are trending and selling like hot cakes. The Banarasi saree has its manufacturing origin in Varanasi, Uttar Pradesh, India that was previously known as Benaras or Banaras. These rank among the topmost fabrics and sarees found in India and hence are mostly what Indian brides are seen wearing on their wedding day. These sarees are finely woven of silk and they are filled with intricate designs which usually makes the fabric quiet heavy. The fabric is most popular for the silver or gold brocade work or zari, the fine silk and absolutely amazing embroidery.
Artistic Motifs
Their special features of the motifs include inspirations from Mughal art, that is designs mostly with foliate and floral motifs intertwined, bel and kalga, leaves named jhallar towards the outer edges, etc. Other features include gold and silver work, figures with elaborate details, compact weaving, jal (a pattern like a net), pallus, metallic visual effects, and the famous minakari work.
A Versatile Material
Women of this century are using this beautiful fabric for various kinds of outfit. It is most commonly used for the saree but evolution of new trends leads to Banarasi Silk being used for salwar suits, Lehenga, Blouses, etc.
Banarasi Suits and Dupattas for the Graceful Look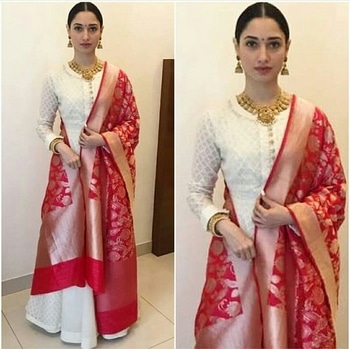 Banarasi silk being very bright and gorgeous on its own, the Banarasi salwar suit looks very pretty mostly when the game of contrasts and color combination is played well. For example, a lighter o neutral shade in the kurta would look very stylish with a bright colored salwar and dupatta combination or vice versa with the embroidery being elaborate in both. There are various other ways of carrying out the look with this fabric which includes beautiful heavily embroidered dupattas with simple salwar and kurtas.
The concept of Banarasi Salwar suits has become quite popular among women all over the country as well as among NRI women who want to keep up the traditional look in their occasions and functions abroad and are thus available widely in markets, exclusive designer shops, malls and even online stores. A wide variety of Banarasi suit designs are being sold and bought now as the air has become a little chilly and hence we know that the wedding season is just round the corner. For people who live abroad or are unable to find these fabrics around them, there are innumerable options available for them to shop for Banarasi suits online.
In the present day, even though Banarasi silk sarees are still considered to be one of the finest traditional sarees, this has led to the trend of salwar suits made of this beautiful material which makes one's outfit extremely beautiful, gaudy, traditional and appropriate for weddings. They look absolutely stunning and keep the traditional touch perfectly intact and thus has become a favorite among many women today.