In 2018, there were approximately 4.11 million registered golfers to play in Europe, according to Statista.com.
With golf in the continent rapidly growing in popularity and an increasing amount of courses popping up each year, there's no debating that Europe offers a selection of amazing golfing destinations to impress even the most experienced of golfers. Europe is also the stomping ground for many rising stars in the professional golfing space, such as Robert MacIntyre, Esther Henseleit and Anne Van Dam, to name a few.
This article explores three popular European golfing hotspots and what makes them such desirable destinations for amateur and professional golf players.
Gran Canaria


Gran Canaria is a Spanish Canary Island situated off northwestern Africa. With its beautiful year-round warm climate, Gran Canaria provides just the right combination of warmth, dryness, and sunshine for a great game of golf. Most golfers visiting this region for a holiday tend to migrate to Maspalomas, but there is also a fantastic selection of high-quality courses in other areas of the island – including the capital city of Las Palmas.
Some of the most notable golf courses on the island include the Anfi Tauro Golf Course, the Maspalomas Golf Club and the oldest golf club in Spain – the Real Club de Golf de Las Palmas in Bandama.
Aside from golf, Gran Canaria is also known for its sandy beaches, black lava, and mountainous terrain.
Murcia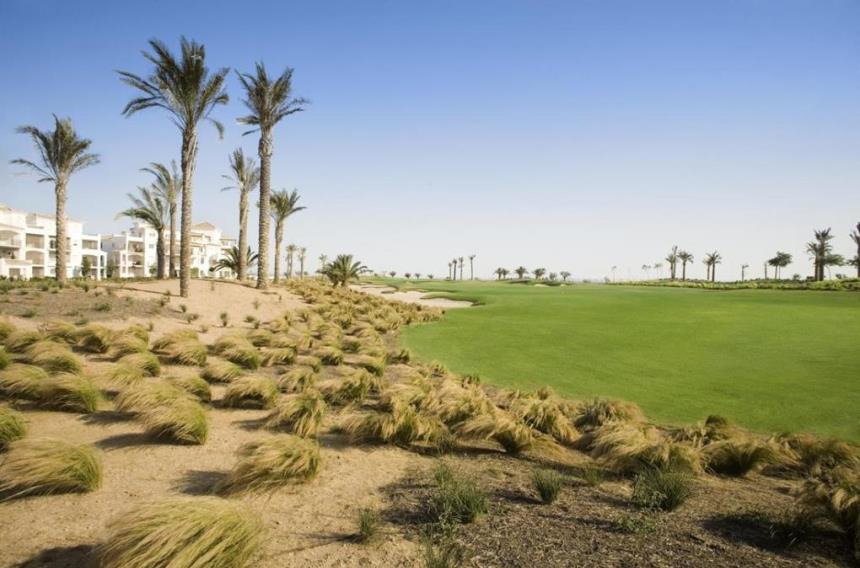 A city in southeastern Spain, Murcia boasts some great golf courses such as the Real Golf La Manga North, South and West courses, El Valle Golf Club and La Torre Golf Club.
When it comes to choosing a hotel with an extensive selection of amenities, the Real Club la Manga Resort, Sheraton Hacienda del Alamo, Caleia Mar Menor and Doubletree by Hilton la Torre are all excellent choices for somewhere to lay your head in between golfing and exploring the local sights, restaurants, and bars.
The popular Spanish city is also an excellent place to admire the fine architecture, such as the Plaza Cardenal Belluga. Murcia is also one of the largest European exporters of fruit, vegetables, and flowers, thanks to its warm, agriculture-friendly climate.
Vilamoura

Likely the most well-known golfing destination of the three, Vilamoura in Portugal is close to Faro airport, offers a very wide selection of challenging courses and both budget-friendly and luxury resorts. The Dom Pedro Golf Courses have a great reputation among visiting golfers, and with the accompanying Vilamoura resort and marina areas, you have everything you need at your convenience. The Pine Cliffs Hotel, Pestana Vila Sol and Anantara Vilamoura also have on-site golf courses – for those who don't want to travel too far from their hotel to play.
As well as golf, Vilamoura is known for its extensive marina, casino, and pristine beaches. Some of the best tourist-friendly things to do in this region include visiting the Benagil Caves out to the west, booking a dolphin watching boat ride, wine tasting or taking a half or full day's fishing trip to learn a new skill and take in the amazing views of the mainland of Portugal from the sea.