During the last few years, exposed aggregates have become a proven choice in the construction sector, due to which many people are now planning to get exposed concrete driveway at their home with ease. This type of decorative surface finish can be achieved by exposing the top layer of the concrete surface and making the aggregate beneath it more visible. Aggregates like pebbles, sand, and rock are mostly used with cement to produce an attractive surface, while other stones like granite can also be used to achieve a smooth finish. The technique was introduced during the earlier parts of the 20thcentury, and still, it is very much used across the world to get superb finishing.
An exposed concrete driveway can be primarily created by using one of the three techniques – Monolithic, Seeded or Overlay. Whatever may be the process used for the purpose, the top layer is made soft so that the aggregates can be seen while the underlying concrete is made hard. It can be a skid-resistant and durable surface, due to which driving vehicles on it can be quite enjoyable, convenient and safe. Some of the best benefits of having this type of surface are detailed here for complete understanding.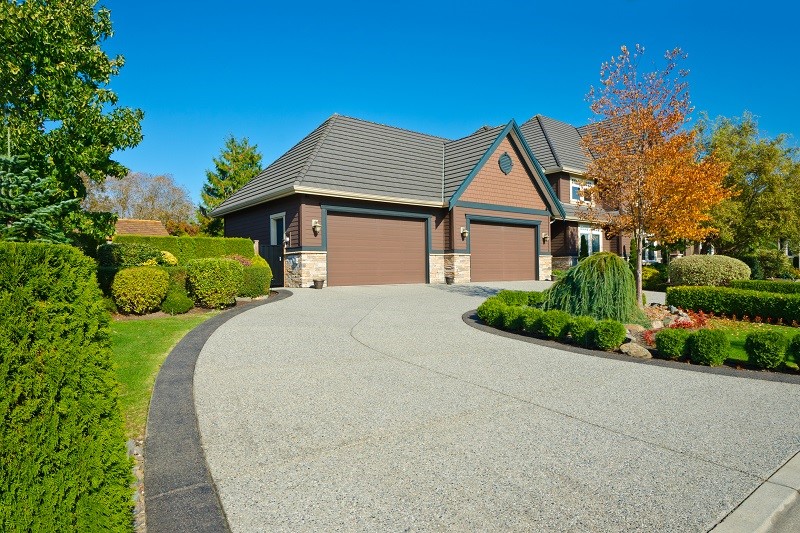 They are quite tough and offer an extended life – Exposed concrete driveway can easily handle heavy traffic, as it is a type of robust surface. This composite material is quite sturdy and not susceptible to easy wear and tear. It can also handle adverse climatic conditions with ease and can withstand considerable heat and humidity. The performance and life of this type of surface can be matched with natural stones like slate and marble, and that is why it is so highly desired.
Very less maintenance is required – Exposed concrete driveway may not need much care or maintenance. Periodic washing of the surface with pressurized water and cleaning solution can be enough to ensure a brand-new look at all times. This type of flooring can stay just as new for at least about 40 years, so the property owner need not worry about replacement. After every three to four years, an owner can seal the flooring to retain its natural shine and color.
The design options are limitless – For making an exposed concrete driveway, the aggregate design options can be plenty. One can easily select the color, hardness, durability, shape, and size of the aggregate that needs to be used. Moreover, smaller stones of different designs and colors can easily be mixed and matched with larger stones to create its fantastic aesthetic appeal. The aggregates can easily be mixed with plain or colored cement to produce the desired effect on a driveway.
It is quite a cheaper option – Compared to other decorative surfaces, building an exposed concrete driveway can be a cheaper option. The price of making this type of surface can be very much comparable to the regular, stamped concrete surface that we see every day. Moreover, as compared to a natural stone surface, it can be about 80 per cent cheaper and substantial saving can be expected from it. However, aggregate material will finally decide the cost, as locally procured aggregate can help in keeping it to the minimum.
This type of flooring option blends well with all types of flooring concrete and can be laid by a professional installer by using only a few tools. Moreover, as it hardens pretty fast, the surface can be ready very soon and there won't be delays in installation. Considering all the benefits that this type of surface offers, it can be an avowed choice for many property owners, and that is why people like to install an exposed concrete driveway.