FRP molded grating or fiberglass grating is actually fiberglass reinforced plastic grating. It is a material manufactured composition of resin and fiberglass. It does not corrode like steel gratings and is used in corrosive environment which reduces its maintenance cost. It has a variety of applications, including walkways and overhead platforms. FRP Gratings' products are one of the core areas after developing pipes. There are several places to buy FRP Gratings in India; Tribeni Fibers being one the popular ones which provide a variety of FRP gratings and its products.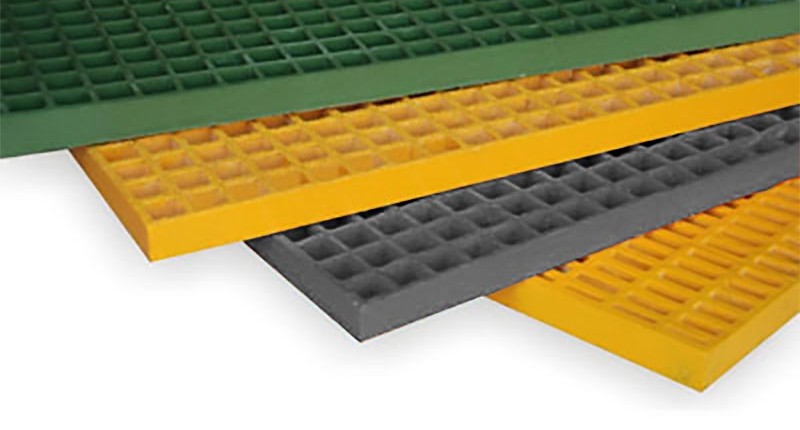 Some of the major benefits of having FRP gratings are mentioned below:
Corrosion resistant: These are designed to withstand damage from industrial chemicals and environmental factors. Unlike other metals, it does not corrode. FRP can withstand continuous submersion, splash pills, fumes or gases, and still maintain its integrity.
Fire resistant: These gratings are excellent in fire resistance because the resins present in it meet class 1 flame spread ratings of 30 or less. The phenolic grating is specifically built for underground and offshore applications to reduce maximum fire resistance.
No maintenance: These FRP products are resistant to rusting, corrosion, or fading and hence doesn't require any painting or sandblasting. They survive harsh rays of the sun because of a synthetic surfacing veil that creates a resin rich surface which gives UV protection.
Non-skid: FRP flooring products have a range of different anti-skid properties that are not limited to embedded grip, post cure grit, concave, or chequered plate. These surfaces are extremely durable and give a much higher level of slip resistance than steel. It is exclusively designed to be long-lasting. FRP floors last longer and provide a safe walking for both staffs and the customer.
Thermally/Electrically none conductive: FRP molded gratings are non-conductive unlike steel and have a high dielectric capability, which makes them suitable for electrical and hazardous locations. FRP is also a thermal insulator.
Weight and variety: FRP molded grating is just 2/3 weight of aluminum and ¼ the weight of steel which makes it easier to lift for any purpose and reduces the cost of transportation. A wide range of colors is available since these polymers are reinforced and colors are mixed straight through.
Installation: These products do not require any kind of welding or high machinery or engineering works for its installation. The ease and speed of installation and lack of maintenance required and long lasting durability the long-lasting benefits far out way the initial cost.
Nil ignition source: These products are ideal for places where combustible gases or file sources may be found. It is completely non-sparking in nature. Unlike other metals, it does not cause a potential ignition from sparks produced from accidental collision of the dropping of tools on the metal surface.
Some of the applications of FRP molded gratings are given as follows:
Trench covers
Operation platform
Double deck floor
Plank road
Platform around tank
Sewage treatment
FRP floors
Boats and others
Tribeni fibers give a large production of FRP molded grating products. It's easy installation and low maintenance costs are replacing metals like aluminum and steels. These also provide beneficial properties like being fire resistant and corrosion resistant that brings forth its wide range of applications in places where there is a risk of corrosion or fire. It's colors, shapes, and properties make it attractive. It has developed a wide range of usage in current days. Even FRP floors are being used to prevent from slipping. This light metal is easy to carry and install anywhere at a low cost too.