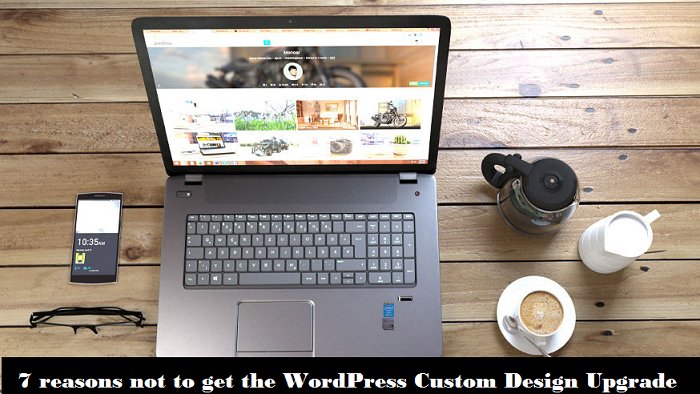 As we all know that WordPress is a website where business websites and blogs are designed and hosted, and it is one of the popular platforms where one can do that. But out of websites and blogs, the majority of them are mainly bloggers who want to start writing blogs, so they use WordPress for creating them. But, there are many bloggers who are UI designers as well and want to bring their enthusiasm to their own blog, so they want to write their own CSS scripts, but this is where they feel the dissatisfaction as WordPress standard themes won't let the users customize them.WordPress themescan't be customized as it can cause security and vulnerability related issues as said from the WordPress officials themselves.
So because of this, WordPress released a custom design upgrade for its users so that they can customize, add plugin support, and do many other upgrades in them, after paying an amount of either $99 or $299, depending upon the plan they choose, the $99 plan being for the bloggers who generally get mild traffic and the $299 plan being for the business ventures where traffic management and customer support is expected to function 24×7. But, keeping in mind that the competitors of WordPress are giving the customization features to the users for free, so why should anyone invest money in this upgrade. A million dollar question, right? Investing a good sum of money on WordPress themes, but cannot customize them completely, but partially?
So, here are 7 reasons to why not to get the WordPress custom design upgrade.
They are:-
Cost – Cost is one the most important factors for someone who wants to start a website or a blog, but still let us consider that you are going to start a business, so in this case it can be viable to think aboutspending money to gain reliability and durability, but for the one who writes blogs cannot simply afford as they are hardly gaining anything back from this. So cost is one of the most important factor here.
Font Limitation – WordPress themes after getting the upgrade let you customize the design, but also have a curse to it, the problem being that the users can choose only those font styles only which WordPress is offering them, so the possibility of adding custom font styles is a no go, which makes this another reason not to go for this upgrade.
Can't edit HTML – WordPress doesn't let the customer edit the HTML content of the page, thus giving us the window of editing the CSS and font styles and color. Editing the HTML can give a UI designer a lot more window than what could be achieved with the CSS part.
Limited editing of CSS –WordPress offers a lot of rules and guidelines on how one can edit the CSS of a page, which makes freestyle editing impossible as WordPress confesses that CSS of a page can also lead to security threats to the blog or website, and if found, the CSS will be removed from the code.
Can't remove attribution links – Users can't remove the attribution links which state the name of WordPress in the footer or the URL of theme websites. Even offering money to WordPress for removing this is not allowed.
WordPress theme – Users can't design or upload their own WordPress themes to their blogs or websites, making this an offer of not to consider taking.
Feature differences – The $99 and the $299 plans have a lot of differences, making the premium offer look like obsolete in front of the Business Offer. Features such as live chat support, unlimited video uploads are not available in the Premium version.