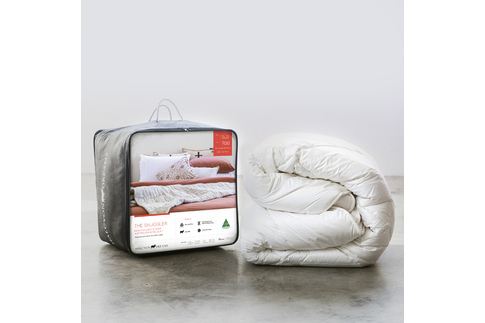 A recent poll revealed that only one in three people wash their sheets on a weekly basis; another third said that they throw their sheets in the washing machine after two weeks, while some bachelors admitted to taking up to three months to change their bed linen.
Yes, three months!
And, as washing sheets and pillowcases is probably the easiest cleaning task (unless you've got washable pillows and a washable wool doona on your bed), we dread to think how often their mattresses are being cleaned.
So, all of this begs the question – how often should you wash your bedding?
Let's see what the experts recommend…
Keeping your bed sheets fresh and clean
Take a few moments to think about what your bed linen is exposed to while you're in bed and you can see why it's recommended that your sheets should be washed at least once a week.
For starters there are sweat and body oils, dirt from outside your bed, dust mites, sexual fluids and lots of skin (a person can shed up to 3.6 kilograms of skin each year)…need we go on?
By sleeping in dirty sheets, you not only run a risk of getting an infection if you have a scratch or open wound, but the longer you leave your dirty sheets on your bed, the more likely it is that these fluids will seep through into your pillows and mattress.
If you can't find time to wash and dry your sheets once a week, consider investing in a spare set so that you can alternate them each week, rather than trying to get them washed and dried the same day.
Looking after your pillows
Pillows collect dirt and grease from your face and hair, but they also collect much more than that.
A study carried out by the Ohio State University showed that up to 10% of the weight of a two-year-old pillow is made up of dust mites and their excrement. If that doesn't make you want to ditch your old pillows, we don't know what will!
Wash feather and fibre-filled pillows twice a year and always use a pillow protector, which should be washed once a month, to keep your pillows as clean as possible between washes.
Blankets and quilts
The frequency you choose to clean blankets, quilts and doonas will depend on how often they are used, and how easy they are to clean.
If you prefer to use a quilt rather than blankets you'll find it easier and more convenient to buy washable quilts in Australia rather than quilts that must be dry-cleaned.
There are many reasons why a washable wool doona is a better choice than a synthetic type, and it's all down to its natural properties. Not only are woollen versions able to maintain your body at its optimum temperature, but they're fire resistant, non-allergenic and extremely warm and cosy too.
They're the best washable quilts Australia has available, so if you're still using a synthetic quilt, isn't it time you changed to a woollen version?
The bottom line? To ensure sweet dreams – wash your bedding regularly
One of the best ways to ensure that your bed is always comfortable and inviting is to create a regular cleaning routine based on the advice above.
Do all of that and your dreams will be a little sweeter (and more hygienic!).